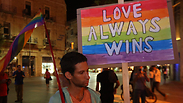 In the wake of the attack on an Orlando gay bar, killing 50 persons and injuring dozens of others, two survivors of the Barnoar shooting in 2008 discussed their reactions with Ynet while Israelis manifested their solidarity with the American victims.
Tel Aviv City Hall (צילום: נועם דביר)
Tomer Raviv, 24, was young when he was injured in the Barnoar attack in 2008. Since then, he has become a police officer, he studies law and works as a personal trainer. He heard about the attack on the gay club in Orlando while a Shavuot meal. "Undoubtedly it took me back," he said and response to the posts he read on social media. "I saw posts that say, 'They deserve it; we need to kill and burn the gays. They have no right to exist.'
"This shows how racist, intolerant, and unsupportive our society is. The responses of people on social media are exactly the same responses as those of the Barnoar attack. This brings me back—my heart is broken into pieces every time I hear LGBT people are murdered because of who they are. In my opinion, we are a population under threat—-being LGBT is a dangerous matter.
Soldarity demonstrations (צילום: מתן טורקיה וגיל יוחנן)
"I know that I cannot go to certain cities holding hands with my boyfriend, because if I walk holding hands with a man, that could bring about great harm to me, even death. It follows us everywhere, even in Tel Aviv, and our house. It is impossible to run away from homophobia."
He added, "We must raise our consciousness and wake up the government because such an event could happen Israel again. The writing is on the wall, and it is just a matter of time."


Yonatan Box was also injured in the Barnoar shooting and is now disabled. He shared his reaction to the Orlando attack: "Hatred against LGBT people is not new and does not surprise me. I am trying not to look at the past.
"Yes, I have fears that this will happen again in Israel. I do not understand why it is impossible to live in peace and quiet. I am going at the end of the month to the gay pride parade in Haifa, and I have fears that something will happen like what happened in Jerusalem, Barnoar, or abroad."
Box harshly rebuked the government for their handling of his and other Barnoar survivors' cases: "The state has abandoned us—they don't treat us like victims of a terrorist attack. The state didn't care. I don't intend to discuss this with the press again. I don't see any reason to go any deeper into this; it only depresses me more. I am trying to be as optimistic as possible."


A number of solidarity events with the victims of the Orlando attacks took place around Israel on Sunday afternoon and evening. The Tel Aviv Municipality lit its southern façade overlooking Rabin Square to display the LGBT pride, American, and Israeli flags, and a candlelight vigil was held at Gan Meir. In Jerusalem, a group of people gathered in Zion Square holding rainbow flags and signs of support.