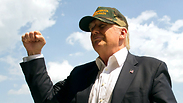 Republican presidential candidate Donald Trump faulted the Muslim community on Monday for not reporting people like the man who carried out the Orlando gay nightclub attack, killing 49 people and wounding 53 others.

Trump, the presumptive Republican nominee for president, told CNN that he thought the Orlando nightclub shooter - Omar Mateen - was known to people in the Muslim community as someone with a potential for violence.

"You will find that many people that knew him felt that he was a whack job ... (that) something like this would have happened," Trump told CNN in a phone interview. "People that knew him, the ex-wife, other people. They don't report them. For some reason the Muslim community does not report people like this."

Donald Trump on CNN

Trump said the United States needed better intelligence-gathering to prevent such things from happening.

"We have to look at the mosques ... and we have to look at the community," he said. "And believe me, the community knows the people that have the potential to blow up."

He also asserted Monday that there are thousands of people living in the United States "sick with hate" and capable of carrying out the sort of massacre that killed these 49 people at the Florida nightclub.

"We can't let people in. ... We have to be very, very strong," the presumptive Republican presidential nominee said in one of a host of broadcast interviews he undertook in advance of a speech he planned later Monday in New Hampshire.

"The problem is we have thousands of people right now in our country. You have people that were born in this country" who are susceptible to becoming "radicalized," the billionaire real estate mogul told Fox News Channel's "Fox & Friends. He claimed that there are Muslims living here who "know who they are" and said it was time to "turn them in."

The gunman, identified by police as Omar Mateen, was a 29-year-old U.S. citizen from Fort Pierce, Florida. He opened fire with an AR-15 inside a crowded gay nightclub in Orlando early Sunday, killing at least 49 people before dying in a gunfight with police. Another 53 people were hospitalized, most in critical condition.

Trump's hardline approach to fighting Islamic terrorism was a hallmark of his primary campaign. Besides proposing a temporary prohibition on foreign Muslims from entering the country, he has and advocated using waterboarding and other harsh interrogation methods to try to stave off future attacks.

In the hours after the Orlando shooting, Trump issued a statement calling on President Barack Obama to resign for refusing "to even say the words 'radical Islam'" in his response to the attack. He said Clinton should exit the presidential race if she does the same.

In an address from the White House, Obama called the tragedy an act of terror and hate. He did not talk about religious extremists. He said the FBI would investigate the shootings in the gay nightclub as terrorism, but added the gunman's motivations were unclear.

On Monday he said "we're led by a man that either is not tough, not smart, or he's got something else in mind. People cannot believe that President Obama is acting the way he is and cannot even mention radical Islam."