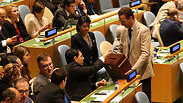 After months of behind-the-scenes diplomatic struggles, Israel's Ambassador to the United Nations Danny Danon was elected to head the UN Legal Committee (officially named the Sixth Committee) on Monday. The committee deals with sensitive topics including fighting global terrorism. .

This is a historic event, as it marks the first time an Israeli representative will head a permanent UN committee since its induction into the organization in 1949

109 nations voted for Danon (the process only included votes cast for a candidate for the position, and did not include 'nay' votes). Palestinian representative Dr. Riyad H. Mansour worked to convince voting representatives to not support Danon until the last second. Iran's delegation was also active in trying to stop the appointment, sending representatives a letter on the matter.

The Israeli victory came after a long, complex diplomatic struggle by Israeli representatives worldwide .Their main opponents were the Arab nations and the Organization of Islamic Cooperation (OIC).

"I am proud to be the first Israeli elected to this position," said Ambassador Danon, "Israel is a world leader in international law and in fighting terrorism. We are pleased to have the opportunity to share our knowledge with the countries of the world."

"We will not allow dictatorships and anti-Israel countries to harm our standing in the international community. Those who tried to block our appointment would be well advised to take note of the jurisdiction of this committee, as they have much to learn about international law," he continued, "We are a full member of the UN and any attempt to deny us of our legal rights in this organization will be met with uncompromising rejection."

Ambassador Danon's candidacy received widespread backing from many member-states, led by the United States and the Europeans.

Prior to today's appointment, Ambassador Danon was first elected as the Western European and Others (WEOG) regional group's candidate for the position. Then, following the objection by the Arab Group to approve the nomination, the General Assembly proceeded to elect Ambassador Danon by a secret ballot. All 193 UN member-states were eligible to take part in today's election. After his election, Ambassador Danon was congratulated by colleagues from around the world.