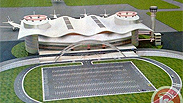 Projected Gazan airport from 2014
Israel's transportation minister said Monday he is pushing for the construction of an "artificial island" off the coast of Hamas-ruled Gaza, saying it will alleviate economic hardship in the blockaded coastal strip and connect it to the rest of the world.

Yisrael Katz said his plan calls for an eight square kilometer (three square mile) island linked to Gaza by a five-kilometer (three-mile) bridge. He said the island, estimated to cost $5 billion, would include a port and perhaps a future airport as well. Israel would supervise security checks but it would otherwise be run by Palestinians and the international community.

Katz, a top deputy of Prime Minister Benjamin Netanyahu, said Israel had no objection to easing the Gaza blockade as long as its security needs are met.

"I do not think it is right to lock up two million people without any connection to the world," Katz said in a briefing with foreign reporters. "Israel has no interest to make life harder for the population there. But because of security concerns we can't build an airport or seaport in Gaza."

Israel destroyed Gaza's airport during the second Palestinian intifada. Gaza City has a small seaport that is not large enough to handle container ships and is mainly used by fisherman.

Israel and Egypt imposed a blockade on Gaza after Hamas seized power in 2007. Israel says the blockade is needed to prevent arms from reaching the Islamic militant group, which has fought three wars against Israel since the takeover.

Israel currently allows about 800 truckloads of goods into Gaza each day through a land crossing.

Katz said the island would be in international waters and could provide economic independence to Palestinians while allowing Israel to still vet security.

He said he is hopeful that Israel's security establishment will back the plan, and that it will soon come up for a vote in the Cabinet. After that, international bodies would have to get involved in the implementation and funding.

Katz said Israel will not negotiate directly with Hamas, which is sworn to its destruction, but has received indications that the Western-backed Palestinian Authority would welcome such a plan. Palestinian officials could not immediately be reached for comment.