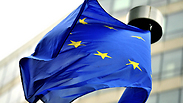 A top European Union official says the bloc stands ready to provide Israel and the Palestinians with massive political, economic and security support as part of any peace agreement between them.
European Council President Donald Tusk said Tuesday that the EU will "back up a peace deal with an unprecedented package of cooperation and support to both Israel and the future state of Palestine."
Tusk said after talks in Brussels with Israeli President Reuven Rivlin, who is currently on a state visit in Brussles, that "a lasting peace in the region remains a top priority" for the EU.
EU foreign ministers expressed determination on Monday to throw the organization's weight behind Middle East peace moves and a possible international conference before the end of the year.
They invited EU agencies to present proposals "including on economic incentives, without delay."
During a meeting between President Rivlin and Tusk, which took place shortly before the statements were made, Rivlin said, "Promoting peace in the Middle East is a vital interest of Israel. At the same time, I believe that our special bi-lateral relations can grow and develop in an independent way."
Tusk acknowledged Israel's security concerns: "We will deepen our cooperation on counter-terrorism, including by launching our dialogue in this area later this year. Terrorism can only be defeated if we face it together."
The statements about the EU package came following the European Union's Foreign Ministers Council's welcoming on Monday of the French initiative to renew negotiations between Israel and the Palestinians following deliberations in Luxembourg on the situation in the Middle East.
"The Council welcomes the Joint Communiqué on the Middle East peace initiative adopted at the Ministerial meeting in Paris on 3 June 2016," the ministers said in a joint statement issued following their meeting in Brussels on Monday.
"The Council reiterates its support for a just, sustainable and comprehensive resolution of the Israeli-Palestinian conflict, and peace and stability in the region."