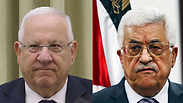 Abbas and Rivlin
Photo: Alex Kolomoisky and EPA
Palestinian Authority chairman Mahmoud Abbas refused to meet with Israeli President Reuven Rivlin while the two are in Brussels it was reported on Thursday. The proposed meeting with Rivlin was to be held at the invitation of President of the European Parliament Martin Schulz.

During a joint press conference held between Rivlin and Schulz on Wednesday at the European Parliament, Schultz was asked if he could be a mediator and conduct a meeting between Abbas and Rivlin. Schlutz replied that Abbas was due to land in Brussels soon, and that he hoped that if Rivlin and Abbas happened to meet in the hallways of the European Parliament, that the two wouldn't run away from each other.

Rivlin responded by saying "don't worry, I won't run away"

Despite this, Mahmoud Abbas turned down the European Parliament President's invitation to meet Rivlin.

During Rivlin's speech to the European Parliament on Wednesday, the Israeli president said of the Palestinian leadership that "in order to achieve a comprehensive permanent agreement, an effective leadership is required. However, the Palestinian leadership today is divided in—at least—two," and noted that "Hamas, which rules Gaza and is ideologically committed—in both its political and military leadership—to the annihilation of Israel."

He continued saying, "In order to achieve a stable and viable agreement, a reasonable regional and economic infrastructure is required. But we are living in a reality where the plague of murderous Jihadi fundamentalism, religious fanaticism and incitement… Israel is devoting, and will continue to do so, vast efforts, more than any other actor in the region even at the price of complex security risk-taking—but Israeli intervention alone will not suffice."

He added that above all, the lack of trust between the sides was a serious obstacle. "The most fundamental trait of Israeli-Palestinian relations today which is, to my deep regret, a total lack of trust between the parties on all levels; between the leaderships and the peoples."