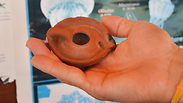 The 900-years-old oil lamp
Photo: Yoli Schwartz, IAA
An Israeli lifeguard has made an incredible archeological discovery during his morning run on the beach in Ashkelon—a 900-years-old oil lamp.

Meir Amshik, a lifeguard at the Ashkelon Coast National Park, went out on his regular morning run on Tuesday morning.

"During the run I saw some planks had washed up from the sea, and I stopped to pick them up," he said. "Suddenly, I saw that a new section of the cliff started deteriorating. I made my way there and saw the intriguing oil lamp lying there in its entirety. I thought it might be an ancient relic, so I picked it up. I went back to the lifeguard tower and together with Avi Panzer, director of the lifeguard station, we contacted the Israel Antiquities Authority (IAA)."

Guy Fitoussi of the IAA's Robbery Prevention Unit quickly arrived at the lifeguard tower. He praised Amshik, saying "The lifeguards of the Nature and Parks Authority, and lifeguards in general, are our eyes on the beach. They are not just saving people, but also relics.

"People must understand that the ancient relics they find by chance belong to the State of Israel and the general public. These findings could be very important for research and provide historical knowledge to all of us. Fortunately, more and more people report finding ancient relics."

Sa'ar Ganor, an archeologist in the IAA's Ashkelon District, discussed the lifeguard's fascinating finding. "The ancient oil lamp, which was used for lighting, dates back to the 12th century AD (the early Crusader period)," Ganor said. "You can really see the signs of wear and soot on the mouth of the oil lamp."

"The oil lamp was discovered, probably, as a result of the receding of the coastal cliff, which is battered by the forces of nature throughout the year," Ganor went on to say.

"The oil lamp represents part of the cultural richness of the ancient city of Ashkelon, which was a city of commerce," Ganor explained. "The port in Ashkelon was used for the import of goods, as well as to export goods manufactured across southern Israel. At the Ashkelon Coast National Park there is evidence of life from the Canaanite period 4,000 years ago until the modern era."

Lifeguard Meir Amshik said that "Finding such a treasure is very exciting. You feel like you're a part of history. It gives you a sense of appreciation for what was here before."