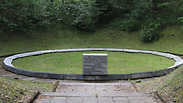 Photo: Ezra Wolfinger, NOVA)
A tunnel used by Jews to escape the Nazis has been re-discovered after decades of searching the Ponar forest in Lithuania. Despite there being extensive witness testimony of the tunnel's existence, it took 71 years for the tunnel to be uncovered.

Some 100,00 people, of whom 70,000 were Jews, were massacred and thrown into pits in the Ponar forest by the Nazis. A special Nazi unit was formed in 1943 with the task of covering up the genocide as the Russian Red Army advanced on Nazi positions on the Eastern Front. In Ponar, this task was assigned to a group of 80 prisoners from the Stutthof concentration camp.

At night the prisoners were kept in a deep pit which was previously used for the execution of Vilna's Jews. During the day they worked to open the mass graves, pile up the corpses on logs cut from the forest trees, cover them with fuel and incinerate them.

Some of the workers resolved to attempt a daring escape by digging a tunnel from the pit that was used as their prison. For three months they dug a 35-yard tunnel using only spoons and their hands. On the night of April 15th, 1944 the prisoners made their escape. They cut their leg shackles with a nail file, and 40 of them began to crawl through the narrow tunnel.

Unfortunately, they were quickly discovered by the guards and many were shot. Only 15 managed to cut through the fence of the camp and escape into the forest. Eleven reached the partisan forces and survived the war.

Since WWII the exact location of the tunnel was unknown. Now, thanks to the cooperative work of Dr. Jon Seligman of the Israel Antiquities Authority, Prof. Richard Freund of the University of Hartford, Paul Bauman of Advisian of Calgary, Canada and the Vilna Gaon State Jewish Museum, the tunnel has been rediscovered. It was located using a geophysical technique used in mineral and oil exploration known as Electrical Resistivity Tomography from the pit used to imprison the captives, to an open space beside it.

Dr. Jon Seligman, Israel Antiquities Authority said, "As an Israeli whose family originated in Lithuania, I was reduced to tears on the discovery of the escape tunnel at Ponar. This discovery is a heartwarming witness to the victory of hope over desperation. The exposure of the tunnel enables us to present, not only the horrors of the Holocaust, but also the yearning for life."

Minister of Culture, MK Miri Regev said of the discovery, "I congratulate the Israel Antiquities Authority on its participation in this international effort that turns history into reality. The exciting and important discovery of the prisoners escape tunnel at Ponar is yet more proof negating the lies of Holocaust deniers. The success of modern technological developments, that have aided the Jewish people to reveal another heroic story the Nazis attempted to hide benefits all humanity."