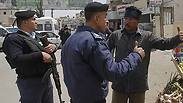 Palestinian Police
Photo: AP
Nine Israelis attacked in Ramallah
Israelis attending traditional breakfast meal in Ramallah are attacked by Palestinian youth, who may have known of their arrival beforehand; eight of the Israelis successfully exit Ramallah via the Qalandiya crossing and a the ninth is rescued by the Palestinian Security Services and later handed over to the Civil Administration near the Beit El checkpoint
Nine Israeli citizens entered Ramallah Wednesday evening on their own accord. Young Palestinians who noticed them then hurled Molotov cocktails at their cars, lighting one of them on fire.

The nine arrived for a break the fast meal at the end of the Ramadan fast at a well-known Palestinian's home who is working to strengthen ties between leftist Israelis and Palestinians. There is a suspicion that the young people knew about the arrival of the Israelis ahead of time and waited to attack them and their cars.

Eight of the Israelis succeeded in leaving Ramallah via the Qalandia crossing and the ninth was rescued by the Palestinian Security Services, who took him to a police station in Ramallah for short questioning. Approximately an hour later he was handed over to the Civil Administration near the Beit El Checkpoint.

The IDF spokesperson said that the nine were passed over to the Israeli security services for further questioning.