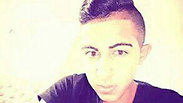 The mother of terrorist Mohammed Taraireh, 17, who murdered 13-year-old Hallel Yafa Ariel on Thursday, said her son had expressed desire to "commit acts" in the past, but the family thought he was not serious.

"When I heard someone had gotten into Kiryat Arba and committed a terror attack there, I didn't even think it could be my son," Taraireh's mother said.

On Thursday morning, Taraireh climbed over the security fence surrounding Kiryat Arba's Harsanina neighborhood, infiltrated one of the houses located just meters from the fence, and stabbed Hallel to death while she was still in bed.

He then attempted to stab a 31-year-old man who is a part of the of settlement's civil security squad. The man was able to shoot the terrorist to death. The man was injured in the incident, but not from the terrorist's knife—he is suffering from bullet shrapnel to his upper body and legs. He was in moderate-to-serious condition.

The IDF has imposed a full closure of the terrorist's village, Bani Na'im, and troops have already questioned both of his parents at their home, taking the father with them for further questioning.

After the attack, the 17-year-old terrorist's house was decorated with Fatah and PLO flags.

The terrorist's sister was proud of her brother's actions. "My brother is a martyr, praise be to God. May God avenge the Jews. God willing, my brother will be happy in heaven. It's enough to me that God supports (him)," she said.

The terrorist's mother said her son has recently posted to social media photos of his cousin, Yusef Taraireh, also of Bani Na'im, who was killed during an attempted vehicular attack at the entrance to Kiryat Araba in March.

He also posted photos of Majid Khader, from the same village, who committed a vehicular attack last week near Kiryat Arba—and wrote that she had died a martyr.

A week before the attack, the terrorist wrote "Death is a privilege" on Facebook as well.