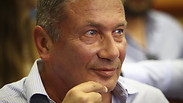 Nochi Dankner
Photo: Ami Shuman
Nochi Dankner, once one of Israel's most powerful businessmen, was convicted of securities fraud on Monday.

Tel Aviv District Court Judge Chaled Kabub found Dankner, the former IDB Holding Corp. controlling shareholder, guilty of carrying out millions of dollars' worth of fraudulent transactions in an attempt to influence the share price of the troubled company.

On February 23, 2012, IDB held a successful securities issue in which it raised NIS 321 million ($83 million). In the institutional phase the company raised NIS 286 million ($74 million) and the public offering yielded NIS 35 million ($9 million) in requests. The offering aimed to beef up IDB's cash reserves so the company could meet its financial obligations to its bondholders.

Dankner is suspected of providing the finances for a scam involving the purchase of IDB stock on the day it was issued. That day, IDB Holdings' stock registered unusually high activity on the Tel-Aviv Stock Exchange.

Suspicions are that Dankner was involved in manipulating the market on the day of issue—in other words, he is suspected of being involved in a massive acquisition of IDB Holdings stock, along with broker Adi Yehuda Sheleg.

The stock acquisition was likely aimed at maintaining the stock's value ahead of the issue. Once the issue ended, IDB Holdings' stock began plummeting.

Dankner, who at the time was chairman of IDB's board and one of the owners of its controlling interest, allegedly financed the scam with his own resources and recruited other parties who, according to his instructions, purchased stock that was bought by Sheleg and the other accomplices in order to provide the finances to keep the scam going.

IDB, whose holdings include a major mobile phone carrier and a leading supermarket chain, took on millions of dollars in debts following a series of bad business deals. The courts wrestled control of IDB away from Dankner as a result.

Dankner, a favorite of Israel's business community, was often credited with helping rescue Israel's economy at the height of a Palestinian uprising. Under his leadership IDB became Israel's largest holding company and Dankner became a celebrity.

According to the indictment, which was filed in 2014, "Dankner saw great importance in the success of the public offering," which is why he invested a lot of effort in promoting it and ensuring its success, including by meeting with potential investors.

In the media, the public offering was dubbed "The Friends' Offering," as many businessmen with close ties to Dankner participated in the preliminary offering, including Michael and Raya Strauss, Yair Hamburger and Shlomo Eliahu.

The indictment alleged the funds secured from these businessmen were not enough to put Dankner's mind at ease about the public offering, leading him to conceive and execute the scam.