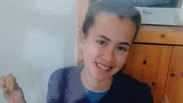 The murdered Hallel Ariel
Michal and Dovi Gellar of Haspin have raised six children, ranging from their 18-year-old first-born son to their 6-year-old daughter. While they initially had thought that six was enough, they changed their minds after Operation Protective Edge and decided to add another life to the family.

On Saturday night at Poriya Medical Center near Tiberias, their seventh child was born: Carmi Hallel, named after 13-year-old Hallel Ariel who was murdered in her sleep last week and was buried a few hours before the newest Gellar's birth.

Her mother, Michal, said, "We decided to name our daughter Hallel ("praise") because we had such a magical, natural delivery, and of course in honor of Hallel Ariel. The late Hallel was a good friend of our niece, and, and we're good friends of the family.

"Through all the grief, we saw the light in the late Hallel's eyes when she danced. We felt how her light strengthened our lives. Together, the names Karmi ("my vineyard") and Hallel give a noble meaning with huge appreciation and a connection to life forces."

Rina Ariel, the mother of the murdered Hallel, said on Sunday when told of the new baby's name, "I was very moved to hear about the baby Karmi Hallel. But it brings up for us feelings of sadness. We understand that Hallel isn't just ours anymore, but all the nation of Israel's."