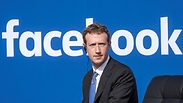 Facebook founder Mark Zuckerburg.
Archive Photo: Getty Images
Israeli and American families of victims of Palestinian attacks filed a $1 billion lawsuit against Facebook, claiming the social network is providing a platform for militants to spread incitement and violence, their lawyers said Monday.

Shurat Hadin, an Israeli legal advocacy group, filed the suit on behalf of the five families in a New York court late Sunday, alleging that Facebook is violating the US Anti-Terrorism Act by providing a service to militant groups that assists them in "recruiting, radicalizing, and instructing terrorists, raising funds, creating fear and carrying out attacks."

The lawsuit focuses on the Islamic militant group Hamas, which runs the Gaza Strip and which has fought three wars against Israel since the Palestinian group overran the coastal territory in 2007.




The five families in the lawsuit lost relatives in attacks over the last two years. Four were dual Israeli-American citizens while one victim was an American tourist.

"Facebook can't sit in its stone tower in Palo Alto while blood is being spilled here on the streets of Jerusalem and Tel Aviv. It has a social responsibility. It can't serve as a social network for Hamas," said , the Israeli lawyer who is representing the families.

She compared Facebook to a bank, saying just as money may be transferred as a service for terror groups, so can content.

There was no immediate comment from Facebook.

The suit comes amid a 10-month outburst of Israeli-Palestinian violence that has seen scores of Palestinian attacks targeting Israeli civilians and troops.

Israel says the violence is being fueled by a Palestinian campaign of incitement on social media while the Palestinians see it as the result of frustrations over nearly 50 years of Israeli occupation and a lack of hope for their own state.

Since mid-September, 34 Israelis and two American tourists have been killed in Palestinian attacks. More than 200 Palestinians have been killed during the same time. The majority of the Palestinians are said by Israel to have been attackers. The rest were killed in clashes with Israeli troops.

Among the plaintiffs in the lawsuit is the family of Taylor Force, a 28-year-old US veteran who was visiting Israel in March when he was stabbed to death by a Palestinian. Other plaintiffs include the family of Richard Lakin, an educator and coexistence advocate who was shot on a Jerusalem bus last October, and relatives of Naftali Fraenkel, an Israeli teenager who was kidnapped and killed while hitchhiking in the West Bank two years ago.

It is not clear whether the lawsuit will succeed. For one, under US law, internet companies are generally exempt from liability for the material users post on their networks. Also, the court may rule freedom of expression precedes anti-terror laws. Facebook has its own code of conduct and often removes content deemed objectionable.

Moreover, while the attackers in the five incidents had links to Hamas, the militant group has stopped short of claiming responsibility for the attacks, suggesting the assailants acted on their own.

The suit comes as Israel is considering how to contain what it sees as rampant Palestinian incitement on social media. Public Security Minister Gilad Erdan is preparing a bill meant to rein in content seen as incitement on social media and earlier this month, he said Facebook had become "a monster," adding that the company had "some of the victims' blood" on its hands.

Shurat Hadin has challenged Facebook in courts in the past. Last year, it demanded an injunction to have Facebook remove and block incitement to violence. A decision is pending.

Such lawsuits are not unprecedented.

The father of a young woman killed in the Paris massacre last November is suing Google, Facebook and Twitter, claiming that the companies provided "material support" to extremists in violation of the law. A similar case was brought against Twitter in January by the widow of a contractor killed in an attack on a police training center in Jordan.