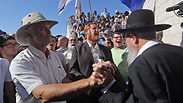 The Ariel family visits the Temple Mount
Photo: Gil Yohanan
Hundreds of people gathered at the entrance to the Temple Mount on Tuesday morning to take part in a memorial service for 13-year-old Hallel Ariel who was murdered by a Palestinian terrorist in her home in Kiryat Arba.

"It's hard on us. We are having a hard time with the fact that the days pass (without Hallel)," said Hallel's mother, Rina. "We're glad that the people of Israel have contacted us and shown support. We regularly visit the Mount. Hallel stopped visiting at the age of 12 for Halachic reasons, but we'll continue," added Rina, who is a Temple Mount activist.

Hallel's family was joined by several MKs, including Yehuda Glick and Oren Hazan from the Likud party and Bezalel Smotrich and Minister Uri Ariel from Bayit Yehudi, but they were barred by Prime Minister Benjamin Netanyahu from entering the Temple Mount complex.

"The power of light is a million times stronger than the power of bereavement," said MK Glick, a Temple Mount activist himself who survived an assassination attempt. "The power of building is stronger than the power of destruction. The power of the God's closeness is a million times stronger than Chillul Hashem (desecration of God's name —ed.), hatred and terrorism."

Agriculture Minister Uri Ariel, a cousin of Hallel's father, said "The entire nation of Israel is one big Ariel family. With God's help, we will not have to fast for Tisha B'Av this year (because the Temple would be rebuilt —ed.). We support the prime minister in making the right decisions to allow every Jew to visit the Temple Mount."

At the entrance to the Temple Mount, visitors who came from all across the country held up signs saying "We're all part of the Ariel family," "Hallel was taken from us," "we'll double our strength."

Alongside speeches, attendees began to dance and sing and were joined by members of the Ariel family and the MKs.

"This isn't a day of sadness, this is a day of joy," said Hallel's aunt. "Not a day of mourning and destruction, but of rebuilding and expectation for the redemption."

Hallel's father Amichai also blew the shofar at the entrance to the Temple Mount and said, "The world needs this heart (referring to the Temple Mount —ed.), otherwise blood will continue to spill. The world is waiting for us to bring the light and banish the darkness."

Hallel's mother Rina thanked those who came: "We didn't come here this morning to cry, we came to strengthen our hearts."

She called to change the name of the Mughrabi Gate to "Hallel Gate."

Hallel's aunt expressed hope the status quo on the Temple Mount would change. "It might seems far-fetched or unrealistic, but it could change," she said.