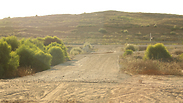 The area where the Israeli civilian crossed the border.
Photo: Roee Idan
An Israeli civilian of Bedouin descent was spotted crossing the border fence into Gaza on Tuesday afternoon, according to a statement by the IDF Spokesperson's Unit. The incident, in which the young man crossed over into the Gaza Strip, is being investigated, and the man's motives remain unclear.

IDF lookouts said they saw the man quickly climb over the fence before calling soldiers from Givati infantry brigade, which is responsible for the area in which the incident occurred, to make their way to the scene near HaBesor Stream. On the other side of the fence is the Palestinian city of Khan Yunis which is also guarded by Hamas security personnel.

This is not the first incident of its kind. Two years ago, two Israelis crossed the fence into Gaza. The first is Avra Mangisto, a 29-year-old Israeli of Ethiopian descent from Ashkelon, who has been in Gaza since September 2014. Hisham al-Sayed, a Bedouin resident of southern Israel, who is known to be mentally ill, also crossed the border about three months after Mangisto.

Publication of the two crossings was permitted in Israel just a years ago, after Hamas leader Khaled Mashaal stated that Israel was conducting negotiations with the Gaza-based terror group for the return of the remains of fallen IDF soldiers, Hadar Goldin and Oron Shaul.

Despite statements and reports indicating otherwise, the official Israeli position is that the two Israeli civilians are being held in the Gaza Strip by Hamas.