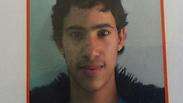 Jumaa Ibrahim Abu-Ghanima
The Israeli citizen who crossed the border into the Gaza Strip is Jumaa Ibrahim Abu-Ghanima from the unrecognized Bedouin village of Hasham Zana in the Negev, it was cleared for publication on Wednesday.

IDF lookouts spotted Abu-Ghanima crossing the border on Tuesday afternoon. Security forces are investigating the matter and his motives remain unclear.

The lookouts said they saw Abu-Ghanima quickly climb over the fence in the central Gaza Strip and consequently sent soldiers from Givati Infantry Brigade to the area, close to the Palestinian city of Khan Yunis, but they arrived too late to extract him.

Hamas has its own "security zone" in that area of the fence, which includes military posts and a security road.

Abu-Ghanima's father, Ibrahim, said "My son suffers from a complicated mental situation. We took him to the hospital and to sheikhs because of his behavior but unfortunately nothing helped. I don't understand why he decided to cross the border. We didn't expect him to do something like that. Had I known, I wouldn't have allowed him to leave the house."

The father recounted that "Yesterday, he was driving close to the border when all of a sudden he disappeared on us. We went crazy when we realized he went into Gaza. We haven't heard from him since he went missing and we have no idea where he is. I hope he returns to his family soon, he belongs at home."

This is not the first incident of its kind. Two years ago, two Israelis crossed the border into Gaza. The first is Avra Mangisto, an Israeli of Ethiopian descent from Ashkelon, who has been in Gaza since September 2014. Hisham al-Sayed, a Bedouin resident of southern Israel, who is known to be mentally ill, also crossed the border about three months after Mangisto.