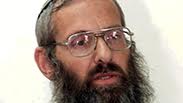 Eyal Karim
Photo: Shaul Golan
IDF chief of staff sticks with Karim, despite controversy
Rabbi Col. Eyal Karim remains Lt. Gen. Gadi Eisenkot's pick for the position of the military's chief rabbi, despite his controversial past statements regarding women, gay people, and refusing orders, after the two met on Wednesday: Karim apologized if his statements offended any soldiers.
IDF Chief of Staff Lt. Gen. Gadi Eisenkot announced on Wednesday that, despite the public controversy, Rabbi Col. Eyal Karim will be appointed as the chief rabbi as the IDF. Eisenkot made the announcement after holding a meeting with Karim following the recent publication of controversial statements the rabbi had made concerning women, gay people, and refusing orders.

The statement released by the chief of staff's office said, "Col. Karim made clarified during the conversation on all the matters that have come up in recent days, and he clarified beyond any doubt that he and all IDF soldiers are completely subject to IDF orders and the IDF Code of Ethics.

"The rabbi promised that he personally and the rabbinate headed by him will respect every single person, regardless of religion, sex and sexual preference, and because he sees the IDF as an army of the people absorbing of its recruits, no matter who they are. The chief of staff spoke with Col. Karim about the chief rabbinate's tasks and how he envisages the rabbinate under his command, and he felt that he and the rabbi see eye to eye on these issues."

The chief of staff emphasized that he disapproves and does not agree with the rabbi's pronouncements that have caused the controversy and that they are inconsistent with the IDF's values.

Karim's appointment to the position of chief rabbi of the IDF was announced on Monday. Shortly afterwards, controversial statements came to light that he had made in the past, mostly when answering readers' questions on the religious website Kipa. The rabbi ruled that when a military order is at odds with Jewish law, a soldier is allowed to refuse an order, that wounded terrorists must be killed, that women must not testify in court or serve in the IDF, that raping gentile women during wartime was permissible, that gays and lesbians have "backward tendencies."

Karim apologized on Tuesday night.

Karim reportedly said in his conversation with Eisenkot, "Even though time has passed, if a solder were offended, I express my deep regret."

Early Wednesday evening, Karim publicized a letter to all IDF soldiers. In it, he stated, "It is inconceivable that any soldier or commander would act contrary to orders." He also wrote, "I understand the diversity and variety that exists amongst IDF soldiers and the important contribution that every soldier makes without regard to their sexual orientation. We will continue being everybody's rabbinate."

Ashkenazi Chief Rabbi of Israel David Lau sent a letter on Wednesday to the chief of staff and praised him for his decision to stick with Karim.