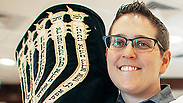 Becky Silverstein
Photo: Ilan Shapira
A rabbi of many colors: A genderqueer Conservative rabbi
Rabbi Becky Silverstein took the time during a recent trip to Israel to discuss his process of defining his gender identity, why he hasn't chosen to change his name, why it was important for him to marry a Jewish woman and the replacement text he has chosen for the daily blessing thanking God 'for not creating me a woman.'
Rabbi Becky Silverstein of Pasadena, California, has become intimately familiar with the routine. It happens every time he shows his passport before boarding a flight.

"I have nothing personally against the ground crew. It's their job to check and double check," he says. "But I still haven't gotten used to it. The agent carefully reads the name 'Becky' and then raises his or her eyes and looks directly at me. 'Excuse me, if you are a female, why are you wearing a kipah? And why are you wearing tzitzit? And if you're indeed a rabbi, then what's with the female name?' A million questions... I mean, aren't they meant to perform their jobs quickly so as not to delay the rest of the line?"

It sounds unpleasant.

"Of course it's unpleasant, but it's not awful. And every time I get home from the airport, I just push the passport to the back of the drawer and don't think about it until the next flight."

Well at least in English you're safe from the Hebrew distinction between male and female verbs.

"That's true. But in English we have a similar problem when speaking in the third person. So the first thing I always say when I start a conversation is 'My name is Becky, and I respectfully ask that you refer to me as a male.' I am not 'she' but 'he.' And it's important to me, as it is to other people in my demographic, that this not be viewed as an issue of semantics, but an issue with real meaning behind it. And if someone refers to me in the feminine, I politely correct them. Everyone can make a mistake; everyone is human."

And what happens when someone continues to refer to you in the feminine?

"At that moment, the conversation ends. I can't be friendly with someone who can't respect who I am. That was the same approach I took when I was looking for work. If the interviewer referred to me in the female because my name is listed as Becky on my driver's license I would immediately say 'No thank you. You're not the right employer for me, and I'm not the right employee for you.'"
'Is this temporary or permanent?'
Jewish history has known only a small number of transgender rabbis, but Rabbi Becky Silverstein, at age 34, is a first in another way as well. At a time when most of his colleagues are officiating as rabbis in the Reform movement, he has been serving for the past two years as the rabbi of a Conservative synagogue in Pasadena, California.

The Conservative movement is the second largest in American Jewry and holds that Jewish law is open to evolutionary changes.

Last week, Becky came to Jerusalem to participate in the Tenth ROI Community Summit, an initiative of the Schusterman Family Foundation to promote innovation amongst younger Jews.

Were you invited to the summit as a rabbi or a transgender Jew?

"The two aren't mutually exclusive. I am Rabbi Becky. Period."

Silverstein has been married for the past two years to Naomi. "We don't use the term husband and wife; I call her my partner," he says.

Born in New York, Becky was raised in the Long Island suburbs where Reform Jewish communities abound. "We only celebrated Passover and Hannukah and didn't observe kashrut or Shabbat. I always thought that Judaism consisted only of matzot and Hannukah candles."

His parents, a social worker and a sales executive, now both retired, had three daughters. "I have a twin sister, Sarah, who is one minute younger. I was named Becky because my parents liked how it sounded, but it's not short for Rebecca. When I was ten my parents divorced. They both remarried, and today I have six half sisters."

And brothers?

"Not even one. But please let's not try to use that as a point to analyze whether that's the reason why I was never satisfied with the fact that I was born a female. My parents still haven't visited Israel, but my father says that his Jewish pride was strengthened considerably since I was anointed a rabbi… What's the saying? 'There's no shortage of honor when you've got a rabbi in the family.'"

Until the age of 18, he shared a room with his twin sister Sarah. "We sisters, and we were very close and relied on each other during our parents' divorce. But we each had secrets that we kept from one another. I remember asking myself at the time why I wasn't able to share my feelings with Sarah. But now, in hindsight, I can appreciate that even from a young age I realized I was different—neither here nor there."

Did you feel at odds with your appearance when you were a child?

"I don't look at childhood pictures, and I really ask not to publish any. As a little girl, I think I looked just fine, but I had almost no awareness of the concept of 'beauty' or my appearance. My self-confidence emerged from my athletic skills. I played softball and soccer and joined the swim team. I didn't have many friends and was mostly competing in sports with boys."

You never played with dolls?

"We had dolls in the house, and Sarah liked them, and I probably played with them as well. But my mother, as a feminist, made sure that there were also building blocks in the house. In general, I am opposed to the common belief that transgender people are girls who liked to play with trucks and tractors as kids. It's a process that starts in our very soul, and it's only those who don't want to truly understand what we're going through who try to see us as exchanging one box with another."

What kind of a student were you?

"A very good one. More so in math and the more practical sciences. Now you're going to tell me that in Israel those subjects are more connected to male professions, right? If so, I'm glad I went to school in the US."

What did you like to wear?

"I insisted on wearing sports clothing that were long and loose. Some might say I was trying to hide my body in them but that thought wasn't going through my mind at the time. As an athlete, I just preferred comfortable clothing."

At what age did you realize that you didn't feel comfortable in the body a woman?

"It wasn't in middle school and not in high school because I never really looked at myself in terms of body image. As a thinking person, I asked myself exactly for what purpose I was created and what I could contribute to the world. Today, serving as a member of the Board of Keshet—an organization working to advance recognition and acceptance of the LGBT community in Jewish communities worldwide—I am shocked to see that chauvinism is an ideal that is inherent in people seemingly from birth. If I love listening to others, does that mean I have a feminine side? Even intelligent and enlightened people fall into that trap; as a result of which, people like me can be deeply harmed, discriminated against and even killed."

At the end of high school, the twins went their separate ways. Sarah studied education and is today a teacher in an elementary school.

"We're both teachers," says Silverstein, who chose to study engineering at Smith College in Massachusetts.

That's a women-only college.

"Correct. But I didn't choose to go there for that reason, and I wasn't even aware of that fact. Someone who studied there recommended the college to me as a place that emphasized sports. Today, by the way,the college is at the center of a public firestorm in the US where they need to decide whether to accept transgender women."

In college, Becky says, he began his transgender journey: a process which would take six years.

"But only at the end of my first year of study did I come out of the closet as a lesbian," he says. "All of a sudden I saw many lesbian couples all around me, and I saw that they were happy. So I asked out a woman. When I returned home over winter break, I told my mother and sister that I had a girlfriend. My mother asked, 'Do you think this is something temporary or permanent?' And I answered her completely honestly that I didn't know, that it was something new for me. My father, I only told by phone a few months later."

He said, "OK, I'll have to get used to the idea.'"

Were you insulted?

"I always knew that my parents loved me, but I also recognized that they weren't always able to translate that love into words. I didn't expect them to be happy and rejoice. Their responses were fine. I knew that their love for me hadn't changed."

During the course of his studies in college, Silverstein became active in the Hillel House for Jewish students.

"I saw that I was far more interested in Judaism than I was in engineering. When I got my degree, I began to work as a math teacher in a Jewish school in Boston, primarily for reasons of convenience. When you choose to work in a Jewish environment, no one asks why you're taking off for Yom Kippur. In Boston, I enlisted in Hebrew College that ordains men and women to the rabbinate, and there my relationship with religion strengthened considerably."

The strengthening, in his words, didn't distance him from his family. Just the opposite.

"I observe Shabbat and Kashrut, but it's still very important to me that I can visit my mother's home without any problems. When I stay with her, she prepares me vegetarian meals. On Shabbat, I drive to synagogue only because I have no other option as the distances in the US are vast, but I don't use my phone or the computer. I prefer to eat at home on Shabbat because I wear a kippa. But when my mother invites me to go out with her and my sisters to a restaurant, I agree and go along in her car.

"Family relationships are more important to me than halachic permutations. This is what the creator of the world meant when he said, 'Honor your father and your mother' and 'Do not set yourself apart from the community.' At times, these measures are a form of love. By the way, one of my half sisters on my father's side is a Catholic. So what? Does that make her any less of a half sister?"

It's permissible to allow yourself leniencies—like driving on Shabbat—to maintain good family relationships?

"These aren't leniencies. They are adjustments. The Torah is a journey of life, and alongside the main highway are many side roads and alternate paths."

The Torah forbids gay male sex.

"Correct. But also here there are updates. I have a deep love for the Torah. But not for the literal Torah delivered at Sinai. Rabbis far greater than I have already adjudicated that sex between lesbians is not prohibited from the Torah because it is not defined as 'intercourse'. I usually say that the prohibition on gay male sex can be found in Leviticus, but in Genesis, which precedes it, we see the verse, 'Man was created in the image of God.' So God created me and many others. We are all in his image."
The yogi-rabbi's wife
In the third year of his rabbinical studies, Silverstein, as part of an exchange program, came to study in Jerusalem for six months. In his words, he suffered there, "every minute of every day." Yet, despite the unfortunate nature of his experience, it was in Jerusalem that he decided to begin wearing a kipah on his head as an outward sign of the gender transition he had undertaken.
"It was actually in Israel, the Holy Land, that I felt like I finally needed to wear a kipah. But I never realized the level of commotion it would expose me to. In the street, people would yell at me in Hebrew, 'Are you a man or woman?' It was a question which deeply embarrassed me, mainly because it included the answer: They were asking the question in the Hebrew masculine.
In synagogue in Israel, I never knew whether to pray in the men's section or amongst the women. Jerusalem was the first place where I established the label which I view myself. While I am typically described as 'transgender,' but I consider myself 'genderqueer'. A person who has a different but undefined gender identity. Only in this title of genderqueer do I feel like a complete person."
So why did you connect to Israel?
"I love the desert views. When I sat on the edge of a crater in the desert and the endless view is laid out in front of you, I can envision Abraham right there.
In Jerusalem, I spent a lot of time in the marketplace in Machane Yehuda because it exposes you to the mosaic of humanity and the sounds can almost swallow you up. No one takes notice of you, and that's a good thing.
One time I went to a gay club in Tel Aviv and I ran right out because the guys were playing with my tzitzit."
Couldn't you have left them at home when you went to a gay club? In Rome, do as the Romans do?
"Sure. I could have, and perhaps I made a mistake. But the kipah and tzitzit are a part of who I am. Every Jew living in America knows that there are places where it's better to go without a kipah, but I try to wear mine at all times.
"It bothers me that there are mitzvot that are only for men like laying tefillin. And when I began putting on tefillin, I felt that this was the way for me to find within Judaism a place for people like myself."
Along the path to his gender identity, Becky says he didn't undergo any hormone treatments.
"My voice is deep because I suffer from asthma. About a year ago, I underwent a breast-reduction surgery so I would feel better in these clothes. My mother and sister came out to California to help me during the recovery period. I still have my period, and I don't see that as a sign of femininity. In my eyes, it is more a sign of God's tremendous influence in the world that he created a biological structure that allows life to be created. Who else could have thought of such a genius system?
By the way, I spoke to other transgender people regarding undergoing a penile transplant procedure. But I heard about all sorts of uterine problems, so I decided not to pursue it, and I think that was the right decision."
Why didn't you change your name?
"I was born Becky, and I'm still Becky. My name is a central part of my entire being. In fourth grade, a teacher in the synagogue was shocked that I didn't have a Hebrew name and gave me the name Rebecca. When I decided that I was a man, I stopped using that name. At the end of the fourth year of rabbinical studies, I spent a lot of time pondering the question of how I should be named in my rabbinical ordination certificate.
In the end I chose two names, Ezra and Natan, because they both reflect the concept of helping. I didn't want them to write 'son or daughter of the Silverstein family' so they acceded to my request and wrote that the certificate was awarded to 'Ezra Natan from the house of Shoshana and Tzvi Hirsch. I am neither a son or a daughter. I am 'from the house of,' and that is the right label."
Becky met Naomi Sobel, 32, his partner in life, in Boston.
"I would regularly host Shabbat potlucks. One of the regular guests asked if she could bring along a friend, and that friend turned out to be Naomi. We have similar backgrounds, as she is also from a Reform home in New York. But unlike me, she came out as a lesbian already in high school."
Was the fact that Naomi is Jewish important to you?
"I would never marry a woman who wasn't Jewish unless she underwent a halachic conversion.
As it happens, I now regularly get halachic questions from transgender people about how a transgender man who converts can undergo a brit milah (circumcision). Is it permissible to draw blood from another organ in place of the traditional circumcision? And on the other side of the equation, is a trangender woman permitted to go to the mikvah?
And the answer?
"There aren't any yet. I am constantly studying and advising people. But I think that the most important thing is that people continue to embrace their Judaism. We need to make sure that they don't get estranged from religion because the Torah doesn't include their gender.
About a year ago there was a case in the US that elicited considerable controversy where a young transgender boy put a video online where he discussed his choice of a new male name–Tom—on the occasion of his bar mitzvah. Now there were certainly many who criticized his actions. But I sent out a letter on all the relevant social media platforms saluting his brave announcement and expressing my support for taking an action that would certainly help others in the future."
Did you believe that you would successfully find a position in a Conservative synagogue?
"I sent out my resume and went to interviews exactly as I am today: with a kippa and tzitzit. At the end of every interview I would ask, 'By the way, is it at all of an issue that I'm trans?'
Many places I interviewed at never got back to me, and I'll never know whether its because I'm transgender or for some other reason. To my great joy, the congregation in Pasadena welcomed me with open arms."
Becky and Naomi (who works for a charitable foundation in the LGBT community) got married in a religious ceremony in Boston.
"With a chupah and ketubah," Becky points out. "She wore a beautiful white dress, and I wore a suit and tie. Just as it should be. We wrote the text of the ketubah together, and I sent it to a friend in Jerusalem who translated it into Hebrew. In place of the Hebrew words kinyan (acquisition) and kedushin (sanctification), we wrote shutafut (partnership). And just like in my ordination certificate, we wrote the words 'from the house of" after both my name and Naomi's."
Did you take each other's names after marriage?
"No. Maybe once we have children. We've decided to adopt. There are so many children in the world who need parents and a family."
Does Naomi act like a rabbi's wife?
"Every rabbi's wife acts in her own way. On Friday evenings, Naomi lights Shabbat candles and then joins me at the synagogue and that's nice, but on Shabbat morning when I'm reading from the Torah or delivering a sermon she goes to yoga. And that's ok. Shabbat is also a day of rest."
What blessing do you recite in the morning prayers? "Blessed are you, Lord our god, king of the universe, who did not create me as a woman" as many men recite, or "who created me according to your will," as is the text for women?
"I drafted a text that can't be found in the prayer book: "who created me in his image.'"
Leaders of the future
Rabbi Becky Silverstein's participation in the 10th Summit of ROI Community came alongside attendance of over 1,000 young Jewish leaders, activists and entrepreneurs from some 30 nations.
The gathering is a main initiative of the Schusterman Foundation, an organization working to strengthen young Jewish leaders around the world.
No'a Gorlin, Associate Executive Director of ROI Community said, "We invest in young leaders with the confidence that they represent enormous potential to influence and impact on their communities around the globe. We are already looking ahead to the next decade where we expect to see these leaders working on the front in advancing major causes and campaigns that we know will be critical for the future growth and success of the Jewish people."
This article originally appeared in Ynet's sister publication, Yedioth Ahronoth, in Hebrew, from which it was translated.