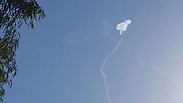 At 5:04pm on Sunday, a siren was sounded in the Golan Heights. The alarm was sounded after an unmanned aircraft was identified entering Israeli airspace from Syria.
Following the identification of the aircraft, the Patriot missile defense system was activated, and two missiles were launched.
"Two Patriot air defence missiles were fired towards a drone which infiltrated Israeli airspace in the central Golan Heights. The drone returned to Syria," the Israeli army said.
Following the incident, Air Force fighter jets were scrambled. Israel has often responded to errant mortar fire from the civil war in neighboring Syria on the Israeli-controlled Golan Heights with tank and mortar shells and with air strikes, but the use of Patriot anti-aircraft interceptor missiles is unusual.
Missile's contrail (צילום: יוני לובלינר)
Missile debris landed in the Golan Heights. There were no casualties or damage.