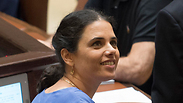 Justice Minister Ayelet Shaked
The Resolution of Family Disputes Law, also known as "the divorce revolution," was enacted on Sunday. The new law stipulates that all couples wishing to attain a divorce are required to first sit down with a mediator before they are allowed to proceed with the process.

It was Justice Minister Ayelet Shaked (Bayit Yehudi) who pushed for the resolution, which validated a law originally promoted by MKs Yariv Levin (Likud), Shuli Mualem (Bayit Yehudi), Aliza Lavie (Yesh Atid), Tzipi Livni and Merav Michaeli (Zionist Union).



The law aims to settle divorce cases in a peaceful and amicable manner. To this end, both parties will be given four mandatory mediation meetings free of charge. The first meeting will be held in a therapeutic environment without legal representation. The makeup of the remaining three meetings will be decided based on the initial meeting's general atmosphere, in accordance to the mediation team's assessment.

As long as the mediation meetings continue to be carried out amicably, the parties' lawyers will not be asked to join in. If, however, legal matters arise or if either party requests their presence, they will be asked to take part in tehm. In cases of involving emergency relief, lawyers will allowed to participate in all the mediation sessions.

Following the law's enactment, Shaked issued a statement saying that "The new situation will offer an efficient alternative to litigation meetings over such sensitive and complex matters as family disputes. The new proceedings will benefit both the citizens and the system by encouraging mutually agreed upon compromises to be reached. Parental conflict can mainly harm the children, and it is our obligation to protect them." She added that "I am confident that this is what parents want most. At the end of the day, they continue to be their parents, even if they are no longer a couple."