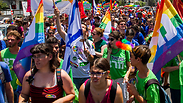 IDF permits soldiers to demonstrate
The army has amended its order related to soldiers and junior officers' participating in public demonstrations ahead of the capital's Pride parade; so long as soldiers do not wear uniforms and identify as IDF soldiers, they are permitted to participate in non-political demonstrations; balance struck to permit soldiers to display 'social involvement and responsibility.'
The IDF has modified its earlier position and will allow its conscripts and junior officers to take part in demonstrations, so long as they are not political. Two years after amending the order "Public activities by military personnel," the IDF announced on Monday that they have again updated the order dealing with military personnel's participation in demonstrations, protests, marches, and parades.

This amendment means that soldiers will be permitted to take part in Thursday's Jerusalem Pride parade, inter alia. The amendment does, however, forbid officers from the rank of lieutenant colonel and above from attending demonstrations.

Conscripts and officers up to and including the rank of major are permitted to take part in public activities, provided that they do not pertain to IDF actions, party political matters, or matters of state. The permitted activity must take place on the soldiers' own time and out of uniform. The demonstrators must not be able to be identified as IDF soldiers.

According to the IDF's announcement on the issue, the amendment "expresses the correct balance between the military framework and the right of off-duty soldiers who are not representing the IDF to show social involvement and responsibility."

Military sources reported that soldiers will be permitted to demonstrate "if the activity in question is run legally, is non-violent, does not disturb the peace, and has not been specifically forbidden."

Until two years ago, it was de jure forbidden for IDF soldiers to take part in any parade or march that was not organized by the IDF or one of its branches. This ban was not routinely enforced, however. The military then took the decision to ban soldiers from participating in any non-military march whilst wearing uniform, or in a demonstration or march that would directly or indirectly touch on the IDF, "its actions, the tasks likely to be assigned to it, or demonstration that undermines the existent of the state and the army."

It was then clarified that the goal was to enable soldiers to take part in demonstrations that were not organized by a certain political party, such as the large-scale demonstrations against the high cost of living in the country.