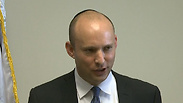 Bayit Yehudi Chairman Naftali Bennett expressed concerns on Tuesday evening over bill proposals surrounding the workings of Israeli media. "Over the last few hours, the picture has become increasingly clear," Bennett wrote on his Twitter account.

"The laws restricting the media raises deep concerns for the future of freedom of expression. Freedom of the press is the basis of democracy," he continued.

Two days ago, Prime Minister Benjamin Netanyahu—who also occupies the portfolio of Minister of Communications—together with Histadrut Chairman Avi Nissenkorn, decided to postpone the opening a new public broadcasting corporation until January 2018. The Histadrut and the ministry of communications issued a joint statement explaining the decision.

"The new alternative public broadcasting via the new corporation is still not ready. Given the importance of not creating a break in public broadcasting - and of (maintaining) a continuous and full public broadcasting schedule - the closure of the Israel Broadcasting Authority (IBA) will be postponed until early 2018," the statement read.

As a result of the decision, the closure of other operating broadcasting networks will be postponed meaning that hundreds of workers currently waiting to receive an answer about their professional fate will be forced to wait even longer. Moreover, the new broadcasting corporation already employed 200 workers who will now also have to wait to hear word of when they are set to begin their news roles.

Responding to the prime minister's and Histadrut's announcement, the committee of the Israeli Broadcasting Company rejected the claims on Tuesday night, responding that it would indeed be ready to begin transmission by September 30.

The committee further stated that it "rejected the attempts to pressure (the committee) which stem from interests whose goal is the weakening public broadcasting in Israel."