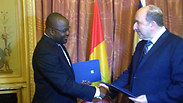 Israel and Guinea open diplomatic relations
Israeli Foreign Ministry Director General Dore Gold and the secretary of the Guinean president signed an official agreement establishing diplomatic ties on Wednesday evening in Paris.

The Republic of Guinea, a Muslim country in sub-Saharan West Africa, used to be a territory within French West Africa. The state was established in 1958 after it gained independence from France. Although Israel previously had diplomatic relations with the Territory of Guinea and French West Africa, those connections were severed after the Republic of Guinea became independent.

"We are closing an important circle with the renewal of diplomatic relations between our two countries," stated Gold after signing the agreement. "Israel calls on all countries that have yet to renew their ties with Israel to follow Guinea's example. This way, we can all act together for the benefit of the region's nations."




Earlier this month, Prime Minister Benjamin Netanyahu led a diplomatic delegation to several sub-Saharan countries—Uganda, Kenya, Rwanda, and Ethiopia—with the aim of reestablishing and strengthening existing diplomatic and commercial ties.

During that visit, Netanyahu hinted to the press that he intends to "meet with a leader of a Muslim African country with which Israel previously never had diplomatic relations."

Published with permission from TPS.