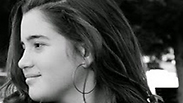 A year ago, Shira Banki was murdered at the Pride parade. Several hours after she was stabbed, the Dawabsheh family—parents and baby—were burned alive in their home. A great abyss has opened beneath our feet.

A year before that, the teenager Mohammed Abu Khdeir was murdered in horrifying brutality. We repressed it. Thought a handful of psychopaths were behind it. We didn't really stop to think about it.

When Shira Banki, a 16-year-old girl who came to show her support at the Pride parade, was murdered by aJewish zealot who decided he was God's messenger on earth burdened with the responsibility of saving Jerusalem's sanctity from the abomination that was the parade, it was clear to us at the Yerushalmit Movement that this time we can't just go on with our lives, that we had to do something.

But what can be done? We started calling on people to come outside, sit together in a "public Shiva," and think of what can we do now. And do all of this at Zion Square, of all places, a location that has turned into a symbol of zealousness and violence. We sent text messages everywhere, bought cookies and brought mats to sit on, and hoped people would come. And they did, thousands of them.

Among them were ultra-Orthodox Jews who sought to distance themselves from the attack and explain that the murderer did not represent them in any way. There were also those from the Jerusalem Open House for Pride and Tolerance, who experienced the horror up close. There were LGBT persons from East Jerusalem who have no place neither here nor there. Jerusalemites came—secular and religious, leftists and rightists, young and old. They intentionally came or coincidentally passed by and decided to stay. They came and sat in circles or stood in grounds. They talked quietly or yelled in rage. But they looked each other in the eye. They were together.

When the "public Shiva" ended, we knew something meaningful had happened here. We weren't completely sure what that was, but we knew we had touched some deeply-rooted need of people to get to talk, even if it's only once, to "them," those different than them. And we knew we needed to keep this on. Since then a year has passed. We come to the square every Thursday, sit in circles, with psychologists, educators and social activists who come to offer guidance, and with fear and uncertainty of what would happen in this year's parade. People come and join us, or simply pass by. They talk to each other quietly, or in shouting. They come and look "the other" in the eye.

Over the past year, there were weeks in which the fear of terrorism left the streets empty, and the circles in Zion Square were the only gathering in an otherwise deserted and terrified street. There were weeks in which new people joined the circles, the latest of whom were teenage girls from the settlements who came to mourn the loss of Hallel Ariel and sat down to sit and talk to leftist teens who were in the circle.

There were teens who passionately explained that Jerusalem needs to be only for Jews, and they suddenly discovered that they were sitting in a circle of immigrant teens who were not Jewish according to Halacha (Jewish law). And for one joyous moment, they were completely confused. There were old Yemenites that joined in singing in Arabic with Arabs from the east of the city. There were so many different vignettes and stories, funny and scary. And always very meaningful.

It's still not completely clear what took place there in the square. A public therapy session? A public mechanism to relieve stress and pressure? It's uncertain. The only thing that is clear is that we made contact there with a large need of people to talk. To get to know each other. To look each other in the eyes.

Shira was stabbed on July 31, 2015, and she died three days later. However, we mark today, at Jerusalem's Pride parade, together with her family, the anniversary of her death and a year to continuing the discussion in the square. We'll mark it the only way we can: Making Jerusalem into a massive meeting place with different circles. Between Jews and Arabs, rabbis and LGBT people, youth from the periphery and normative adults. Between everyone and everyone. We'll be at Zion Square and Maccabi Mutsri Square and in Menorah Park.

Jerusalem has a long history of zealotry and hatred. It also has the ability to become a place of meeting. And hope. This is our choice, and it's only dependent on us.

Tehila Friedman is a fellow at the Shaharit Foundation and a board member of the Yerushalmit Movement.