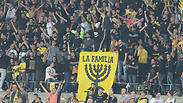 Israeli soccer hooligans arrested
The Beitar Jerusalem soccer club 'La Familia' is known for being rowdy to the point of violence; 56 members of the club were arrested on Tuesdy night with more arrests to come; Flares, stun grenades, smoke grenades found in the posession of several of the club members.
Israel Police arrested 56 members of the "La Familia" Beitar Jerusalem soccer team fan club in an unprecedented operation on Tuesday. An undercover agent who had infiltrated the group over the past six months led to the breakthrough.

More arrests are expected in the coming days.

Deputy Police Commissioner Benny Abiliah said that the group has been labeled "a criminal organization."

The members of the soccer fan club were arrested in an operation which took place all over Israel – from the upper Galilee to the Negev desert.

Nine of those arrested were soldiers who were arrested by the military police, while two of those arrested were minors.

In addition to the arrests, 20 military grade stun grenades, a kilo of rocket propellant, two tear gas canisters, 29 flares of different sizes, and 19 improvised grenades (some of which emit yellow smoke) amongst other weapons.




Beitar has long tried to contain the tightly knit fan group whose behavior has had the team docked points and forced it to play before empty stadiums.

The group is routinely abusive toward opposing players, taunting them with racist and anti-Arab chants. Beitar has asked police to help rein in the group, which is also suspected of attacking team facilities.