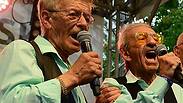 Holocaust Survivor Band returns home to Poland
91-year-old Saul Dreier decided to start a band two years ago when he read an obituary for a woman who survived by playing the piano; joined by 88-year-old Ruby Sosnowicz, the two recently performed in Warsaw and outside Auschwitz, returning to their birth country for the first time since World War II.
Two Holocaust survivors took to a stage at the site of the former Warsaw Ghetto this week to perform lively prewar tunes -- the 91-year-old played drums and the 88-year-old was on accordion, keyboard and vocals. In the audience several elderly Christian Poles who saved Jews during the Holocaust swayed and tapped their feet to songs in Yiddish, Hebrew and Polish.

This week, the two grandfathers, who now live in the United States, returned to their homeland Poland to pay their respects to the victims of the Nazi German genocide, and to perform at the site of Warsaw's wartime Jewish ghetto.

Peering at the crowd from behind his drum set on Wednesday night in the capital, 91-year-old Saul Dreier yelled into the mic: "Is everybody happy?" The crowd cheered.

The dynamic duo came to "play for the people that perished and to play for the peace of the world. As simple as that," the retired building contractor told AFP.

Dreier, who welcomed his first great-grandchild last week, survived three concentration camps and worked in one of the factories of German industrialist Oskar Schindler, who has been credited with saving the lives of more than 1,000 Jews.

He lost most of his family in World War II. "My parents were burned in Treblinka. Either Treblinka, Majdanek or Belzec. I don't know which one," he told AFP, referring to death camps set up by Nazi Germany in occupied Poland.

"And the rest was burnt in Auschwitz," the largest Nazi German death camp where 1.1 million people, mostly European Jews, lost their lives.

Dreier was in tears at meeting the Christian rescuers, hugging them and shaking their hands.

"Thank you, thank you," he told them.

"We are so bound together that nothing can separate us," Alicja Szczepaniak-Schnepf, an 85-year-old rescuer, told Dreier.

Later, the two even danced together briefly during an opening act by the Sentimental Warsaw Orchestra, which played foxtrots and other nostalgic prewar melodies.

While Dreier sometimes joins in, the lead singer in the band is Reuwen "Ruby" Sosnowicz, who also plays accordion and keyboard.

Together, they mainly perform klezmer music—traditional Jewish songs from Eastern Europe.

Sosnowicz, 88, was back in his native Warsaw for the first time since he escaped the ghetto and hid in a barn for three years thanks to a kind Polish farmer.

"Some people were nice people. They helped, you know. The farmer did a big thing. If they would find out that he did it, they would kill him," said Sosnowicz, who is more low-key than his fast-talking bandmate.

He was never able to thank the man because he never even knew his name.

Sosnowicz remembers that the farmer and his family "didn't want us to know who they are even, because they would kill them. People would kill them."

Ahead of the concert he was introduced to several Poles who rescued other Jews, saying "God bless you," to them.
'Miracles in our music'
Jews lived for nearly a millennium in Polish lands, forming Europe's largest Jewish community on the eve of World War II, at nearly 3.5 million people. Of those, an estimated 350,000 to 425,000 survived the Holocaust, and most of those ended up fleeing postwar anti-Semitism.
Though Germans were solely responsible for the Holocaust, Jewish-Christian relations in Poland are deeply marked by the war. Prewar anti-Semitism led to the indifference by some Poles to the slaughter of the Jews taking place before them—crimes that occurred as the Germans also murdered some 2.5 million non-Jewish Poles. There were also cases of Poles who murdered Jews themselves or handed them over to the Nazis.
But there were also those Poles who helped Jews, and some were summarily executed with their entire families for doing so. Yad Vashem has recognized 6,620 Polish rescuers, more than from any other nation.
Poland, a deeply Catholic nation, has a complex relationship with the Jews. It is a deeply emotional story of both betrayal and salvation that Pope Francis will encounter during a somber visit Friday to the former Nazi German death camp of Auschwitz-Birkenau, where some 1.1 million people were murdered, most of them Jews.
There he will meet with both Christian and Jewish survivors of the camp, as well as a group of Christian Poles who risked their lives during the war to give aid to Jews, a group recognized by Israel's Yad Vashem as "Righteous Among the Nations." Church officials and several of the Righteous say it's the first time a pope will ever meet with them, a belated gesture to a group whose acts embody Francis' own determination to help people of other faiths threatened by war and violence today.
With his visit to Auschwitz, Francis will become the third pontiff to visit the site after predecessors John Paul II, a Pole, and Benedict XVI, a German. There he will pray at an execution wall and in the cell of St. Maximilian Kolbe, a Franciscan friar who volunteered to die at Auschwitz to save the life of a family father. Francis will meet with Auschwitz survivors, among them Christians, at the main Auschwitz camp and will meet with the Righteous and members of the Jewish community at nearby Birkenau, where most of the camp's Jewish victims were murdered in gas chambers.
Organizers say his visit to Birkenau will be marked by silence, in a gesture reflecting the horrific nature of the atrocities committed there.
Several of the Christians who will meet the pope attended the open-air concert in the former ghetto Tuesday evening, sharing in the joy of the evening as hundreds of music lovers danced, sang along and drank beer. On Sunday they also performed a private concert in front of Auschwitz in memory of the dead.
"I was very moved by this concert," said Stanislaw Swierczewski, an 84-year-old Pole who worked with his father during the war to help Jews escape the Plonsk ghetto and hide them in their attic. He spoke after the concert in Warsaw. "This is so beautiful and I will remember this day for the rest of my life."
Swierczewski said he was also looking forward to greeting the pope, and has a message for him if he gets a chance to say a few words: Christians and Jews are brothers and sisters.
"We are one family, bred on this soil," he said, pointing down to the ground.
Another rescuer, Tadeusz Stankiewicz, 86, reflected on how his family's Catholic faith—and knowing the difference between good and evil—inspired the help his family gave to Jews. He said he would like to tell Francis how faith and God sustained him in those difficult times.
"He is very modest and our life was just like that," Stankiewicz said.
'Contagious optimism'
The band was joined on stage for part of the gig by the youthful and folksy Warsaw Sentimental Orchestra, plus popular 52-year-old Polish rocker Muniek Staszczyk, who said: "It's a great honor to be with the boys."

"Their optimism is contagious. They're full of life," audience member Justyna Tarnacka said of the Holocaust Survivor Band.

"It's phenomenal. I admire these people. They have so much energy. We might not have as much at 90, if we even live that long," the 32-year-old television journalist told AFP.

Dreier attributes their good health and vigour to "God and miracles".

"We had miracles in concentration camps, we had miracles in hiding, now we've got miracles in our music," he said.

He was inspired to start the band two years ago, when he read an obituary for 110-year-old Alice Herz-Sommer.

She survived Terezin concentration camp by playing the piano.

"When I saw this, it hit my heart," Dreier told AFP, saying he immediately went to his wife with the Holocaust Survivor Band idea.

"What? You crazy?" was the response. His rabbi later told him, "What you need this for?"

"And because those people tell me no, I said yes!" Dreier exclaimed, adding: "I went out the following day and bought a set of drums. Brand new."

His search for a bandmate led him to Sosnowicz, a hairdresser and lifelong musician, or as Dreier put it: "Not only he's a musician, he's a master musician. He's number one."
'The best healer'
The two men formed their group, the Holocaust Survivor Band, two years ago but were not able to take their show on the road before because they were both taking care of ill wives. When both women died in February within eight days of each other, they took it as a message from on high that they were meant to travel back to their Polish homeland and Israel to perform. The trip was organized by From the Depths, a Jewish foundation active in Poland.

"God wanted us to come here," said Sosnowicz.

"My mom got very sick, she had a massive stroke. And, you know, dad went into a depression... My first inkling was, 'Wow this would be great for dad,'" Sosnowicz's daughter Chana Rose, who had moved back in with her parents to help them out, told AFP.

She later went on to become the band manager and a fellow musician, doing backing vocals and percussion for the Holocaust Survivor Band.

They have since played nursing homes, synagogues and other local Florida venues—even The Venetian casino in Las Vegas. In Poland, they also brought their instruments to Auschwitz and Treblinka.

"Music makes you alive. Even during the war, we played music. We didn't have what to eat but enjoyed music," Sosnowicz said.

"Music is the best healer in life."