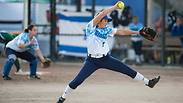 Photo: Surrey 2016 Women's World Championships
Israel Debuts in World Women's Softball Championships
The Israeli Women's national softball team competed in the Women's world Championships in Surrey Canada for the first time; Team member Marianna Fox: 'I'm excited to be representing my country...I want to see softball grow in both Israel and for young girls worldwide.'
Surrey, British Columbia Canada – The Israel Softball Association women's national softball team made its debut in the XV Women's World Championships in Surrey, Canada last week. It was the first time in international softball history where thirty countries participated in The World Championships.

The first group stage draw placed Israel, USA, Brazil, and Austria in the same group. Israel's first game was against the US team which was ranked second.

In the placement round, Israel broke out with a win against Switzerland in an exciting 11 – 8 game. Pitcher Allison Aronovic picked up the win in pitching a full game for Israel.

"This has been an amazing experience for these athletes to play softball with the best teams in the world", said Callie Caughron, head coach of the Israeli squad. "It's given them a new perspective of how softball is played. The athletes met and befriended other softball players from around the world".


WBSC (World Baseball and Softball Confederation) president of the softball division, Dale McMann, is very pleased that Israel is participating in the world championships, a sentiment echoed by world championship organizing committee chairman, Greg Timm.

"We are pleased and excited that Israel is participating here in the world championships in Surrey", Timm said.

Mariana Fox, an athlete on the Israel women's team who moved from Canada to Raanana, was thrilled to be playing on Team Israel in the world championships. Fox, who plays both infield and outfield, said "I'm excited to be representing my country in a tournament such as The World Championships. Women from thirty different countries play every day representing their sport, country, and developing softball for the younger generation. No matter their religious background, political beliefs, ethnicity, age, or societal status, I want to see softball grow in both Israel and for young girls worldwide."

It was very difficult for the Israeli women's team to get to the world championships. There was no government funding to send the team to the tournament, so the team had to fundraise to purchase their own uniforms and equipment. With generous donations from the Jewish Federation of Greater Vancouver and major donors within the Vancouver Jewish community, including Anita and Arnold Silber, travel expenses were raised so that the women could travel to the world championships.

Israel Softball Association president Gerson Gillett is hopeful that there will be other opportunities to send national teams to both European and international tournaments in the future. "We are sending four national teams to various tournaments this year; the Women's World Championships in Surrey, the Junior Men's World Championships in Midland, Michigan, the Men's European Championship in Italy, and the Junior Women's European Championships in Sant Boi, Spain. I'm encouraged that we will continue to send more of our teams to these tournaments", says Gillett.

The Israel Softball Association started youth programs throughout the country to teach softball and bring up youth to be able to participate in future international tournaments.