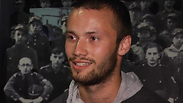 Immigrating to enlist in the IDF
Like 49% of foreign draftees, Noam Atlan is from France, and he wants to serve in Golani like his father before him; Daniel Ragolsky, from the US, also hopes to serve in combat: 'This is the right place for me to be right now'; Israeli recruits have the Hebron-shooting case on their minds.
The combat draft season is currently at its height, and multitudes of youths with their families are filling the enlistment center in Tel Hashomer during July and August. Amongst the youths last week were also some new immigrants that came to Israel alone and who don't intend to waive a meaningful combat service.

Noam Atlan, 19, left his parents and two sibling in Paris, and in a fortnight, he'll be a regular combat soldier. "Life in Israel is very different than in France," he said. "I immigrated alone to Israel. My family stayed in France; I have a 15-year-old brother there and a 17-year-old sister."

Daniel Ragolsky (קרדיט: אסף מגל וניצן דרור)

"I wanted to immigrate to Israel and enlist in the army, just like my father did," said the 19 year old, whose father came to Israel in 1989. "He served in the 51st Battalion in the Golani Brigade, and I want to serve there, too. After serving, my father returned to France, but I want to stay in Israel."

Atlan said that his family supports his plans: "They were really proud that I wanted to immigrate to the country. I intend to stay in Israel and, after the army, start studying business management at the Netanya Academic College.



Atlan spend eight months at the Ami-Chai mixed-gender mechina (pre-army preparatory program), which is run in party under the Zionist Council in Israel and the World Zionist Organization. Yaakov Hagoel, Vice Chairman of the World Zionist Organization and Head of the Department for Activities in Israel and Countering Anti-Semitism, said, "We are proud of the dozens of youths that have come on a mission and with devotion to serve the State of Israel with love. Today, we embrace you and thank you for being a significant part for us of the mosaic of Israel, made entirely of love for the land of Israel

Atlan told Ynet that the security situation in Israel was not a consideration for him: "I knew that it's dangerous in Israel, but we have our army and soldiers, and in another fortnight, I'll be just like those soldiers, with a uniform and a weapon, and I'll defend the nation of Israel. It took me five years to take the decision, and I'm sure of it and am impatient to enlist already."

Asked if his entire family will follow the path set by their father, Noam replied, "We're already talking about the entire family coming here and immigrating when my siblings finish school. My brother wants to follow in my footsteps, to enlist and come to Israel."

Daniel Ragolsky immigrated to Israel from the US two years ago, and in August, he hopes to join the most intense combat unit that he can: "I'm alone in Israel; my entire family is in New Jersey. At first, I didn't know a lot about the country until I came here with Birthright Israel for ten days, and then I fell in love with it and decided that I would come back."

Even though Ragolsky's parent's support his decision, the security situation in the country worries his mother. "They're happy and helped me get here, but because I wanted to enlist in the army and to be a combat soldier, my mother is always worried." Daniel is still uncertain if he'll remain in the country after his military service. For now, he said, "There's no other place that I'd rather be; this is the right place for me to be right now."

According to data published by the Defense-Social Branch at the Ministry of Defense, 45 percent of all foreign persons enlisting are from France, and 29 percent are from the USA.
Hebron-shooting in the background
This past week, Vered came to the enlistment center to accompany her son, Dor, who is enlisting in Nahal. "It's a very emotional day for me," said the mother. "I've enlisted two daughters, and it's not at all like enlisting a son, and certainly not to combat service; it's very hard, but if he wants combat service, then I'm with him."

Dor discussed the shooting of the neutralized terrorist in Hebron by Sgt. Elor Azaria, who is currently on trial for manslaughter for that incident: "I don't think that such a situation should have existed at all. I think that I can show a bit more responsibility, and that's enough to prevent my being in such a situation."

His mother added, "We talked about it at home. I trust his standards and judgment; I believe in him. Perhaps we sound judgmental, but we really believe in common sense. Sure, there's an army and there are decisions, but a person also has to use common sense in a situation. It's the kind of thing that's served at home, along with food."

Ronen Denotsky enlisted last week to the Kfir Brigade, to which Azaria also belongs. He also spoke on the Hebron shooting affair: "It's possible that I'll also have to be in situations like that; it's not scary. In my opinion, the soldier shouldn't go to jail for that; he was defending his country."

Ronen's father, Sergei, added, "It's emotional that he's enlisting, but I know that my son will be okay. He'll go and also return in peace."

Shahaf enlisted to the elite special-forces unit Shayetet. "I'm confused, also happy, and also sad, but excited about the event. I'll give my all, and we'll see what happens. I heard about what happened in Hebron, but I didn't really get into it. It's a scary situation, and I don't know right know how you should handle a situation like that; you have to know what to do, and I believe that, if we get there, we'll know what the right thing is to do in the moment."