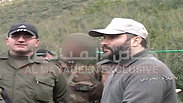 Scenes from the series
Photo: As-Safir
Four years after the Lebanese television channel Al Mayadeen, which is close to Hezbollah, published the dramatic footage of the kidnapping of Israeli soldiers Ehud Goldwasser and Eldad Regev, the channel broadcast on Saturday night a three-part series with new testimonials on the kidnapping from the Israel-Lebanon border, which led to the Second Lebanon War in 2006.

In the first episode, fighters for the organization are seen training for the kidnapping in summer and in winter. Imad Mughniyah, Hezbollah's international operations chief who was assassinated in 2008 in a joint Mossad-CIA operation in Damascus, is present in the last training before the kidnapping in an area that was similar to the actual scene. He is seen giving instructions to fighters.

In addition, footage is shown from Hezbollah operatives that followed IDF patrols along the route used for the kidnapping. In this episode, Khaled Bazzi, the commander of the cell that captured the two soldiers and who was killed in fighting in the ensuing war, also appears. Al Mayadeen also broadcast voices from IDF radio communications in which Ehud Goldwasser is heard a short time before the car in which he was travelling was taken.

The television special is part of a ten-year anniversary project since the Second Lebanon War that the station is putting on. On Friday, an introduction to the series was published in the Lebanese newspaper As-Safir, which is also close to Hezbollah, entitled "Capturing the Israeli soldiers: A new version."

Training for abduction

This episode stated that three months before the outbreak of the Second Lebanon War, the terrorists from Bazzi's cell came more and more frequently to the scene of the kidnapping. Israel reportedly noted suspicious movements but was unable to put its finger on the plan. "Israel had information on the desire and attempts by Hezbollah to abduct a soldier, but as for the question of where and when, it didn't have an answer."

Israel raised its level of alertness, but it was unable to pinpoint the exact mission of the cell. The raid began an 8:40am when Israeli outposts were attacked to throw Israel off.

Shortly afterward, the two IDF humvees were shelled, and the cell responsible for the abduction acted. The two reserve soldiers, Goldwasser and Regev, were taken, and it later turned out that they were killed. The newspaper concluded its article, "The matter ended at 9:04. Before the leadership in Israel knew the details of the kidnapping, Hezbollah personnel and the soldiers were already in a safe place far away."