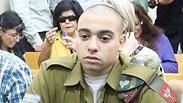 Azaria in court
Photo: Motti Kimchi
Facebook posts from 2014 made by Sgt. Elor Azaria, in which he curses Prime Minister Benjamin Netanyahu, have recently resurfaced online.

Azaria, who is facing manslaughter charges after shooting dead a wounded terrorist, expressed his anger at the prime minister's decisions during Operation Protective Edge. "Bibi, you fa**ot, why a ceasefire? Hit them hard!!!" Azaria wrote on July 15, while the 50-day war was still ongoing.

His father, Charlie Azaria, who received a phone call of support from Netanyahu after the Hebron shooting incident, agreed with his son, saying "Well done, you have to hit them really hard!"

"Yes, kill them all," Azaria agreed.

In another post from June 30 of that year, Azaria, who was still in high school at the time, declared "Kahane was right!" referring to Meir Kahane, a radical right-wing rabbi who was barred, along with his followers, of holding public office due to his extremist views against Arabs.

Azaria's mother Oshra responded to the post, saying "Death to anyone who hurts Jews. Enough with being humane, if need be we need to kill women and children as well, starting with (Zoabi)."

Screenshots of the two posts made the rounds on social media on Saturday night.

The military prosecution has, in the past, considered using these posts in their case against him, but eventually decided against it.

Sources close to the soldier said in response that "this is recycling of things that were posted in the past, which are not relevant to the trial, and is done to hurt Elor. When these posts were written out of pain during Protective Edge, (Elor) was still a teenager, not a soldier yet. The Azaria family has a lot of respect to Mr. Netanyahu. Those who are running this despicable campaign against a combat soldier in the IDF are the same people who embrace and offer condolences to families of murderous terrorists. The people of Israel support the soldier and no post will change that."