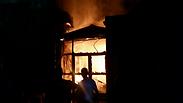 A massive fire broke out on Sunday evening in the Al-Jazzar mosque in the northern city of Acre causing heavy damage to the structure. Police officials said that the fire was likely caused by a technical fault which led to an electrical failure.
One person was lightly injured from smoke inhalation and firefighters were immediately called to the scene to extinguish the flames which were consuming the holy site. Hundreds of residents in the area arrived at the mosque in an effort to assist the firefighters.
Fire in Acre mosque
"The second that we saw the fire we left work and quickly ran to the scene," said the residents. "We started to help to put out the massive fire. We don't know how it happened. We are all waiting to hear the results of the checks."
Al-Jazzar mosque is the largest and most important of all in Acre and the most important after the al-Aqsa mosque.
While the cause of the fire was not initially known, residents never really suspected that it could have been an arson attack, according to one resident who celebrated the good relations between Jews and Arabs. "There is no way that someone set the mosque on fire in the heart of the city. This is a place in which Arabs and Jews live together and have good relations. We never suspected that any person would want to harm a mosque - Not today or any other day."
The Imam of the mosque, Sheikh Samir Assi, was the victim on an attack in 2014 when a masked individual threw acid at his car. The Sheikh is known for his efforts, along with Jewish clergy and people of the municipality, in acting as a mediator between Muslims and Jews in the mixed city.
He undertook great efforts to prevent friction between the two communities and participated with Israel's former chief rabbi, Shlomo Amar, along with other religious muslims, christians and Druze people, in a condolence visit to the synagogue in Har Nof which witnessed an infamous massacre in 2015.