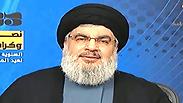 As Nasrallah sits in his bunker (and believe me, Hassan, they know where you are and are aware of your comings and goings), he surely realized how irrelevant he is becoming. His threats toward Israel have lost their effect. He's being warned – by Lieberman now – against trying something with Israel.

It's no secret that Hezbollah's military maneuverability is limited. The Iranian Revolutionary Guard is holding it tightly, as they're also doing to Syrian President Bashar Assad. The Lebanese terrorist organization is also experiencing internal conflict over how many young people are to be conscripted into the deadly war in Syria.

Nasrallah has become a hated figure in Beirut living rooms. Those who listen to politicians, merchants, media members, and academics can hear a stream of juicy cursed aimed toward the man who's preventing them from electing a president and making their state into a functioning, normal entity.

Something strange is going on along the open border between Syria and Lebanon. Bombarded civilians continue to flee from east to west, while trucks carrying Hezbollah fighters keep going the other way, into Syria, in order to reinforce Assad's military. The eight Syrian refugee camps in Lebanon, filled with 500,000 women, children, and disabled people, are a heavy burden placed on the country's economy.

These days were supposed to be the peak if tourism season for the Jounieh beaches, but Arab tourists have stopped coming all of a sudden. Because of its rivalry with Iran, Saudi Arabia has punished Lebanon collectively, withholding donations worth billions. Six Arab states see Hezbollah as a terrorist organization, and its large stockpiles of rockets mean Nasrallah has to be monitored.

In his recent pathetic outburst aimed at the Suadi royal family, Nasrallah sounded like a mosquito trying to sting an elephant. Following reports of (retired) Saudi General Anwar Eshki's meetings in Jerusalem, the ayatollahs in Iran sent Nasrallah to speak for them. This isn't really a "normalization," but a new trend which Israel and Saudi Arabia aren't really trying to hide. Mostly, it's an alliance of interests that's driving Iran's leaders crazy: Saudi Arabia, Egypt, Jordan, Morocco, two Gulf principalities, and Israel.

And to make this picture extra clear, we should notice the rare occurrence of CIA Director John Brennan giving his estimate this weekend that Syria will not remain a single state when (and if) Assad is removed. In the immediate future, this means Assad has neither a prepared heir nor a clearly defined expiration date for his rule. And in the far future, it seems Syria will cause many a headache in it's future forms.

The sudden announcement by Jabhat al-Nusra that it was separating itself from al-Qaeda is also troubling Nasrallah. The different militias fighting in Syria are starting to make things crowded now. There's ISIS, the Free Syrian Army, the Syrian military with its allies from Hezbollah and the Iranian Revolutionary Guard, and now Jabhat al-Nusra founder Abu Mohammad al-Julani wants to het his piece of the action, his plans unclear. It may be that this separation is just a smoke screen, and that al-Julani will keep in touch with al-Qaeda in secret. It may also be that Jabhat al-Nusra have received an intelligence analysis from a very certain organization that told it to prepare for the day after Assad leaves power.

The White House has a hard time buying this turnover. They're in a test period with us, said an official spokesperson, not dismissing outright the possibility of local fighters joining the American-led coalition against ISIS.

If they make a show of force in the field, and Jabhat al-Nusra's disassociation leads to al-Qaeda's further weakening in Afghanistan, and if Israel provides its supposed intelligence about al-Julani – Hezbollah and Assad swear he's a Mossad agent – al-Nusra may become another piece of the puzzle that is the new Syria.