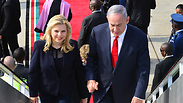 The Netanyahus board a plane from Kenya to Rwanda
Photo: Kobi Gideon, Israeli GPO
After a tender providing the prime minister with his own plane was recently decided upon, the plan to purchase and prepare the designated plane has been set into motion.

A used airplane will be bought by the government and fitted with VIP features along with special additions, such as a secure communications system and defense features that will allow the prime minister to fly over more security-sensitive regions.


The plane's acquisition was approved two years ago, in addition to approving plans for erecting the new prime minister's residence at a cost of NIS 650 million.

Israeli heads of state have in the past relied on Boeing 707 planes for their travels. However, this tradition was discontinued due to the planes becoming outdated and their high fuel consumption.