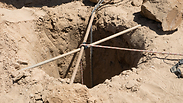 Hamas terror tunnel
Photo: IDF Spokesman
New underground concrete barrier to encircle Gaza, stop terror tunnels
The Ministry of Defense has issued tenders to several companies to build a concrete barrier extending several stories below ground to mitigate the threat of terror tunnels; the barriers will have sensors to detect digging, and will completely encircle Gaza.
An underground barrier to defend against Hamas attack tunnels is on the way following a call from the Defense Ministry for companies to bid to construct the new defensive line around the Gaza Strip.

The closed tender has been submitted to 20 Israeli contracting companies. The first part of the defensive underground barrier will go along 10 kilometers of the Strip, with plans to extend the barrier around the entirety of the 60 kilometer border with Israel – thereby completely encircling Gaza.

The concrete barriers will extend several stories underground and will include above ground sections as well. Besides being used as a physical barrier against terror tunnels which cross into Israel, the sophisticated barrier will also be able to detect tunnel digging close to it, something which will enable the IDF to destroy these terror tunnels before they pose a threat.

Due to the sophistication of the project and the depth to which they will have to dig, Israeli contractors will require assistance from foreign corporations with experience in erecting underground barriers.

Several international companies have already refused to work with the Israeli companies due to political issues. A representative of one of these companies who even took part in a tour of the area said that his company decided at the last minute not to cooperate on the project due to political sensitivities. The ministry of defense meanwhile announced that it doesn't know of any instances of companies refusing to work with Israel due to political considerations on this manner.

Work is set to begin on these underground barriers in October 2016. The work will be divided between four Israeli companies, including Solel Boneh.

The new defensive line will cost more that NIS two billion, and the first tenders which are to be issued will be worth several million shekels.

.

The barrier is supposed to end the tunnel threat once and for all, much like how Iron Dome has helped significantly reduce the number of rockets being shot by Hamas at the Israeli home front.

Other companied who have issued tenders are Rafael, Israel Aerospace Industries, Elta, and Ampers.