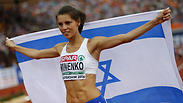 Hanna Minenko (Photo: AP)
Four years after Israel's athletes failed to bring home a medal in the London 2012 Olympics, the nation now places its hope in a delegation which includes a number of recipients of gold, silver and bronze medals. Here are some who may just be able to clinch at least one medal in Rio.
Judo: Yarden Gerbi (27) Uri Sasson (25) and Sagi Muki (24)
Notable achievements: Gerbi became a world champion in 2013 and a world runner up in 2014. He took a silver medal and two bronze medals in in the European Championships in 2012, 2013 and 2015.
Muki became a world champion in 2015 while Sasson is a two-time runner up in the 2015 and 2016 European Championships.
Judo is a field in which Israel can brag historic successes. Yael Arad won the first Israeli Olympic silver medal in Barcelona in 1992 while Oren Smadja added to the prestige a day later. Ariel (Arik) Ze'evi won bronze in Athens in 2004. This time, Israel has sent more Judokas than ever before in its history - no fewer than 7 - for whom attaining a medal is certainly possible.
Gebri is already well-known in Israel. Since she won the World Championships in 2013 - which also took place in Brazil - she demonstrated her abilities as one of the best athletes in Israel who is believed to have a good chance of taking an Olympic medal home.
Last year she suffered a setback but still has the potential to reach the top spot. Sasson was a two-time runner up in the European Championships and has arrived in Rio in the best shape of his life. Muki, last year European champion, has been predicted by the Associated Press news agency to be the only Israeli to receive an Olympic medal in Rio. Leading up to the tournament however, Muki was injured. Israel can only hope that this will not prevent him from living up to AP's expectations.
Wrestling: Ilana Kratysh, 26
Notable achievements: Finished second place in the European championships for the past four contests (2013-2016).
Israeli wrestlers have been to the Olympics before, but Kratysh will be the first woman to wrestle for Israel in the most prestigious contest of all. Kratysh, who competes in the 69-kilogram category, is the daughters of a Judo coach, and started her career as a Judoka. At the age of 20 she switched over to wrestling and demonstrated remarkable talent. Kratysh has taken the silver medal in four consecutive European championships (2013-2016), and has competed admirably against wrestlers from other continents too.
Kratysh's main obstacle lies in the fact that women's wrestling is very underdeveloped in Israel. She is required, therefore, to travel abroad for much of the year – not just to compete, but to train at a more competitive level. Her weight division is generally considered to be dominated by European wrestlers, meaning her participation in Rio is indicative of her potential.
Taekwondo: Ron Atias, 21
Notable achievements: Silver medal at the European championships (2016).
Participation in Olympic-level Taekwondo is a particularly difficult to begin with with only 16 athletes in each weight class making it. While this means that the path to a medal may be shorter, managing to qualify for walking it is indicative of the fierce competitive level to be expected. The young Atias, has already proven himself a force to be reckoned with having won the silver medal at the most recent European championships.
Atias, who competes at 58 kilograms, is one of the most promising athletes in the entire Israeli delegation to the Rio Olympics.
Triple Jump: Hanna Minenko, 26
Notable achievements: World runner up (2015) European runners up (2016) bronze medalist in the World Championships (2015).
Minenko, originally Hanna Knyazyeva, is not only one of the top leading athletes in the Israeli delegation and one of the best sportswomen ever to have represented Israel - but also has a fascinating story. Born in the Ukraine, Monenko was sent to the London 2012 Olympics to represent her country where she came extremely close to receiving a medal in the triple jump. Ultimately however, she fell just short and was forced to accept fourth place.
Shortly before this she met with one of her competitors, Anatoly Minenko, an Israeli former decathlon champion. The two fell in love and Hanna immigrated to Israel in 2013 and began representing the country instead of the Ukraine.
She became a popular figure among Israeli sports fans not only because of her impressive achievements but also because of her personal character and connection with Israel. She quickly managed to pick up perfect Hebrew and is able to handle interviews in the language.
Mimenko is one of the best in the world in her sport but the competition which awaits her will not be easy. The elite world teams include between five and six extremely talented jumpers, all of whom are able to snatch a medal in any given competition.
In the last two years, Mimenko proved her abilities to excel in competitions of such magnitude when she finished, for example, in the final three of the the European championships. This gives hope that this time, under an Israeli flag, she will be able to reverse the disappointment she suffered in the London Olympics under the Ukrainian flag.
Rhythmic Gymnastics: Ida Marin (19), Alona Koshevatsky (19) Yuval Pilo (18) Ekaternina (Katia) Levina (19) and Karina Lichber (18)
This team holds some of the most exceptional achievements for any Israeli delegation. They include gold medals at the European Rhythmic Gymnastics Championship in June in the clubs and hoop event. The quintet also won silver in the World ribbons event in 2015 and silver in the same event during the European Rhythmic Gymnastics Championships in 2016 . Moreover they managed to capture two bronze medals at the European Championships in 2014 and 2016 and two silver medals in the European Games in 2015. In 2014 they took home the silver medal at the World Rhythmic Gymnastics Championships.
These five young women became Israel's most outstanding delegation and proved themselves to be formidable world class athletes.
A case several months ago, in which the coach of the team, Ira Vigdorchik allegedly kicked squad member Katia Levina during one of the exercises, affected the team ahead of the Rio Olympics. However it looks like thing returned back to business when the team achieved impressive victories at the Placentia World Cup in Baku. If there is any team capable of inspiring hope and bringing a medal home, this is the team.