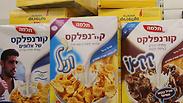 Tainted products
Photo: Motti Kimchi
Last week, Unilever Israel admitted that some of its flagship breakfast cereals contained salmonella and that they had initially withheld that information from the public and the Ministry of Health. Thursday night, contrary to their previous statements, Unilever, admitted that some infected boxes had reached supermarket shelves. In response, Minister of Health Rabbi Yakov Litzman condemned their actions and threatened to pull their license.

Speaking Friday morning, Litzman said, "Unilever failed in management, lied to the public and the Ministry of Health, and we take this seriously. We are considering revoking its production-line license. We can't trust them. Teams from the ministry are investigating the serious case that includes damage to public health."

The minister's condemnation came the morning after Unilever reported to his ministry that despite their repeated claims that all the infected cereals had never reached the public, some 240 infected units, out of a total of some 150,000 that had been infected, had actually left the factory. The ministry dubbed this "negligent" on Thursday night, and their official statement also threatened to revoke Unilever's license.

The Ministry is opening an investigation to check how the tainted units came onto the market, the results of which will be released to the public, including recommendations for avoiding similar cases in the future.

Unilever Israel CEO Anat Gabriel released a statement on the affair on Thursday night: "I apologize from the bottom of my heart for the recent events…We apologize that we mistakenly announced that no product from the tainted line had reached the market." She elaborated that they had learned only Wednesday that this was mistaken and that they were working to recall any affected cereals and to implement new procedures to prevent recurrences.

Unilever has already begun the recall of the cereals: Cornflakes of Champions cereal purchased between June 26 and 27; Badatz kosher Cornflakes purchased on June 23 and between June 27 to 29; and Cocoman cereal purchased between June 29 and June 30.