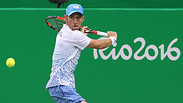 Israeli tennis star Dudi Sela (ranked 65th in the world) beat Bosnian tennis player Damir Džumhur 4:6 4:6 in the first round of the Rio Olympics Tennis Tournament.

Sela received a relatively easy draw, and beat the Bosnian in two sets. The Bosnian was leading in the second set 3:4, causing stress amongst the members of the Israeli delegation, especially when Sela injured his wrist and had to get it treated. However, he overcame the injury and came back strong enough to win the match.


In the middle of the second set, the Bosnian tennis player caused a scene when he claimed that Israeli spectators were cursing at him, and even threatened to leave the court. The judge had to get down from his chair and calm the crowd and the Bosnian tennis player down.




Sela was quoted after the match as saying "I've never played against him (Džumhur), but he's known as a provocateur. I completely removed myself from what was going on with the Israeli delegation. I'm happy that everyone's moods improved. Everyone who makes it to the second round is really good, but because of the support I have, everything will be ok."

Depending on who wins the next matches, Sela will either be playing against Belgian David Goffen (ranked 13th in the world) or Australian Sam Groth (ranked 168th in the world).