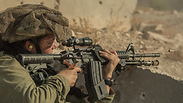 IDF combat soldiers
Photo: IDF Spokesperson
Starting this October, every combat soldier released from the IDF will be able to study for a university degree or a profession at the expense of the military, Ynet's sister publication Yedioth Ahronoth has learned on Sunday.

IDF Chief of Staff Gadi Eisenkot, who is leading the scholarship program, recently met with Finance Minister Moshe Kahlon, urging him to help secure the funding to offer scholarships to all released soldiers and not just combat soldiers. Kahlon promised he would work to include all soldiers in the scholarship program.

The scholarship program, which was approved in a meeting at the IDF's Manpower Directorate on Sunday, will be funded by donations from the Association for the Wellbeing of Israel's Soldiers (AWIS) and the Friends of the IDF (FIDF) organizations.

"This money should be used to fund a bachelor's degree, not a gym. The army will build the gym," the ID chief said.

The IDF will also participate in funding the scholarships through a foundation it will set up for this purpose, while the soldiers will fund a third of their tuition using a deposit set aside for them by the Defense Ministry.

Soldiers who are new immigrants, minorities or of disadvantaged families will also receive the scholarship, even if they did not serve in a combat position, with the objective being to eventually include all released soldiers in the program.

Estimates put the cost of the program at around NIS 230 million a year, while including all released soldiers would cost an additional NIS 500 million. In the first year, however, the cost will be much lower, totaling at only a few tens of millions of shekels, as initially the program would include a smaller group of released soldiers.

According to senior military officers, there will be an overhaul in the model used for donations to the IDF, with the top priority being dedicating the money to pay for higher education for soldiers.

The new program will also bring to equality among the released soldiers as combat soldiers from some elite units, such as Sayetet 13 and Sayeret Matkal, receive full scholarships from donors—something that is not given to their friends from Golani, the Paratroopers and the Engineering Corps, for example.