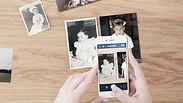 An Israeli app has managed to near the top of the paid iPhone app list and take in millions of dollars. Photomyne, a startup in Bnei Brak, developed an app to scan old photos from albums and digitalize them for smartphone users.

Photomyne was founded a year and a half ago by Nir Tsemah (the CEO), who was one of the founders of LabPixies, which Google acquired in 2010; Omer Shor, who previously made an app to process photos; Natalie Verter, formerly a user-experience designer at HP, and Yair Segalovitz, who comes from the field of finance and business development. In addition to them, the company employs eight employees in Bnei Brak, close to the Ayalon Mall.

The app was launched a year ago. It sought to solve the following problem: Every family has photo albums that are digitally inaccessible. Segalovitz explained, "The average family in the US has more than 3,000 photos in albums. Scanning services tend to be very expensive. Nir and I agreed that this situation didn't make sense."


Contrary to other apps, Photomyne doesn't require the user to photograph each picture individually—the user can photograph the entire album page on their smartphone, and the technology successfully isolates and crops the pictures from the background, saving the photos individually.

The app is available on the Apple App Store in two versions: the basic, free version and the full version costing $5. Deciding to charge is a rare: Most app developers choose to share their apps for free. Segalovitz admitted, "A lot of people told us that there's no chance that anybody would pay."

Today, a year after the app's release, 20 million photos have already been scanned using Photomyne by the 1.2 million persons who downloaded, more than half of whom have chosen the paid version. Apple takes a 30% cut from each purchase, so the company has made a profit thus far of 2-to-3 million dollars from downloads. While not a huge sum, it's a rare feat for a young app from Israel.

As of Monday, Photomyne was 14th on top list for paid apps in the US App Store and in third place for the photo and video category. In March, the startup raised $2.6 million in funds from Israeli investors, and it is recruiting new employees. The app is currently only available on the iPhone, but the Android version is expected to be released in the coming months. Regarding plans for the future, Segalovitz said that they don't want "to remain just a scanning tool. In the end, we'll be able to become an historical data storage service with old pictures from around the world."