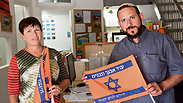 Hagit Yaron and Ari Odes
Photo: Tal Shahar
The Movement to Return to Gaza's Gush Katif
The evacuees of Gush Katif still long for the day they'll return home. A new movement they established is laying the groundwork—of infrastructure and 'hearts'—to return to the area from which Israel withdrew in the 2005 Gaza Disengagement. They know their chances are slim, but they won't give up on their dream.
Hadar Mintz is looking at a photo taken in the back yard of her childhood home in Kfar Darom. She was a little over five years old, and she remembers well the feeling of excitement when entering the new home her parents had just finished building and discovering the large back yard that, to her, seemed endless. Her father, Efraim Eyovi is seen in the photo kneeling so he could flatten the ground around the young tree he had just planted. He has broad shoulders and a small smile of satisfaction on his face, which is probably there not just because he's planting the tree but also for the new chapter in his life that had just begun: A new home, four children and a wife pregnant with the fifth child.

Eyovi, who comes from a family of farmers from Moshav Zrahia, grew tomatoes in his greenhouses in Kfar Darom. He had a reason for choosing to plant an araucaria tree in the back yard of his home in Gush Katif, which was a Jewish bloc in the Gaza Strip that was evacuated and demolished during the Gaza Disengagement in 2005. It is an evergreen coniferous tree that can be planted close to the sea, and even though Kfar Darom was not exactly on the Gaza shore, it was definitely close to it.

Hadar remembers the beach just as well as she can remember her house. She remembers the soft sand and the color of water, which changed with the seasons, and the joy of swimming in that water—something she hasn't done since the Gaza Disengagement. "I haven't swum in the ocean for 11 years, and I used to swim a lot. I loved swimming," she says. "The beach was a kind of home for me, an inseparable part of my childhood at Gush Katif. I've been to the beach in Ashkelon and in Nitzan, but it didn't feel like my beach. It only brought on a strong desire to return home."

Several months after that photo was taken, her father was murdered by terrorists who shot him while he was driving through the southern Mount Hebron area on his way to Kiryat Arba.

The most concrete monument left to his children, who were young when he was murdered, was the house he built and the trees he planted in the back yard. The house is no longer standing—bulldozers demolished it and flattened the ground—but Hadar, a 28-year-old mother of three who made a new life for herself in the settlement of Itamar in the Samaria region of the West Bank, wants to return home to Gush Katif—to the Gaza Strip.

It's not just a desire, a longing, a dream you wake up from every day to face real life. Mintz truly wants to return to Gaza and believes it could still happen. To that end, she founded—along with a group of friends who grew up in Kfar Darom with her—a settler group of young families seeking to return to the land from which they were evicted all those years ago.

A similar settler group was established by the former residents of Elei Sinai. Inbar Dabush Barby, who was born in Ashkelon and moved to the then-new settlement of Elei Sinai, is now a 34-year-old mother of a toddler. She compares herself to the thorn trees growing in the northern Gaza land. "Just like those trees grew there, so did I," she says. "And just like they belong there, in that land, so do I belong there, on that land. I started a new life in Ashkelon, but my aspiration is to return home to Elei Sinai."
6,500 people strong
Over the past few months, new settler groups seeking to return to Gush Katif have been coming together as part of a new movement called "HaBayta" ("Going Home") or in English, "Returning to Gush Katif." It was founded by the Friends of Gush Katif group, which is operating out of a small office in Merkaz Shapira at the Shafir Regional Council and has 6,500 members so far.

The movement's leaders know this would be a long process and that returning to Gush Katif would not happen tomorrow or in a month. But they can start raising awareness and prepare the ground for it. This means setting up observation points near the Gaza border fence that overlook the area where the evacuated settlements once stood and bringing students and other other groups on tours of the observation points; establishing a political lobby at the Knesset; launching an intensive campaign on social and traditional media to warm public opinion to the idea; and even preparing plans for the settlements that would be rebuilt, including the planning of public buildings and new infrastructure, and allocating lots to the families.

Hagit Yaron, who runs the Friends of Gush Katif group, says the idea to start the movement has been in the works for two years. She has lived in Neve Dekalim for 19 years—now she lives in Nitzan, a town not far from the shore, north of Ashkelon.

"A few years ago, I got to hear Yohanan Ben-Yaakov tell his story. He was one of the children of Kfar Etzion who experienced the evacuation from there in 1948. He said his family moved to Jaffa but despite the fact they had a new home and rebuilt their lives, they kept missing Kfar Etzion. What he was telling us, the people of Gush Katif, is that 'You can build new houses and new lives and at the same time still miss home.' It gave me the strength to carry on with my activity in building new settlements for the bloc's evacuees, building me and my family a new home, but at the same time keep missing Gush Katif and aspire to return there one day."

Gaza Disengagement

On the ruins of Netzarim, the Palestinians built a theme park with a giant ferris wheel, while public buildings in Neve Dekalim are now a branch of al-Aqsa University. Where Ganei Tal once stood, the children of Khan Younis are now enjoying water slides. Maurizio Molinari, a correspondent for Italian newspaper La Stampa, went back to the settlements Israel evacuated in the summer of 2005.

Ari Odes, a member of the board of the Settlers' Committee and the head of the "Returning to Gush Katif" movement, spoke about a town hall meeting he organized two weeks prior at Bnei Dekalim, a new town established by some of the Neve Dekalim evacuees in southern Israel.

"I went there to present the new movement's plan of action. One of the participants, a young woman who was born in Gush Katif and was a teenager at the time of the expulsion, asked for the floor after I was done presenting our goals and plans. 'Aren't you worried that the very call to return to Gush Katif will create an internal conflict between the need to build a new life and the desire to return there?' she asked. And one of the older women who were there answered, 'We built a house here, but our hearts are there.'"

Yaron says that from day one, the Settlers' Committee's slogan was "Remember and Return." Two years ago, the committee's activity gradually decreased after the authorities and the government took over handling the evacuees.

"And then we asked ourselves," Yaron says, "whether we had run out of goals as a committee. We realized we had a responsibility to say 'Remember and Return,' which are not empty words. We started thinking what we could do and slowly but surely the idea of forming the movement came to be."

Odes says the catalyst to establishing the movement was Operation Protective Edge in 2014. "The war in Gaza raised quite a few questions among evacuees from Gush Katif, mostly among the younger generation. People were wondering why we even evacuated the Strip if every few years the IDF had to go back into Gaza to fight and then leave again. And even so, why not return? We were approached by people from Kfar Darom, Katif, Neve Dekalim—people who were active in the struggle against the evacuation as teenagers and are now family men and women who have Gush Katif in their hearts—who asked us to do something. We started thinking about creating a change in perception among the general public. After all, talking about returning to Gaza nowadays is considered something delusional, but we're thinking long-term.

"We met with a dear Jewish man called Moshe Moshkowitz, who was one of the founders of Masu'ot Yitzhak in Gush Etzion, and after the evacuation there was among the founders of Masu'ot Yitzhak here in Shafir (Regional Council). He was one of the leaders of the movement to return to Gush Etzion after 1967. We went and asked him how, after so many years, is it possible to continue dreaming about returning home. After all, they established new towns after the evacuation of Gush Etzion, people built homes for themselves in different places. And he is a man that is, you would say, a 'dreamer with two feet firmly on the ground.' He said, 'Live in the present and dream of the future—these things are not mutually exclusive.'

"So we decided to plan for the future: We started working on practical work plans, for example how to utilize the infrastructure buried underneath the demolished settlements; figure out what we can revive and what we can't; planning fundraising efforts and how to approach politicians and convince them to support (our cause) at the Knesset in the form of a lobby for a return to Gush Katif. We're beginning a long campaign in the media and door-to-door, framing it as 'returning to Gush Katif is returning to who we were.'"

Yaron says this was a movement born to dream. But with all due respect to dreams, if they wake up tomorrow to learn that this dream could come true—the movement wants to be ready. That is why they are going to revive the 2005 campaign, which made use of the color orange as a symbol of support to the cause of Gush Katif. They plan on handing out flags for vehicle windows, bracelets, and posters with the slogan "Returning to Gush Katif" to hang outside one's window. Orange donation boxes, similar to the blue KKL-JNF boxes that have been around since srael's early days, will be put in synagogues and yeshivot belonging to the religious-Zionist sector. Later, these boxes will be distributed all across the nation, allowing the general public to support the cause as well.

Gaza Disengagement

Islamist organization self-produces and tests rockets where Israeli settlements once stood; this is also where its fighters practice how to infiltrate Israel and kidnap soldiers.

To mark the 11th anniversary to the Israel's withdrawal from the Gaza Strip and the evacuation of Gush Katif, the movement will open 11 observation points at the Gaza border area, from which visitors could overlook some of the demolished settlements.

"Just as the children of Kfar Etzion who were looking from Tzur Hadassah at the lone oak tree that marked the spot where their home once stood, so will we look at our settlements," says Odes.

The movement is working to build wooden pergolas at vantage points in the area, or using existing observation points and refurbishing them. The movement has already received approvals in principle from KKL-JNF to use the existing observation points, and they are currently in the process of obtaining building permits for additional observation points from the relevant towns and regional councils.

The observation point at Netiv HaAsara, for example, will provide a view of Elei Sinai and Dugit. The observation point at the "Qassam Hill" in Sderot will overlook Nisanit. And so on—observation points are planned at the Operation Black Arrow monument near Mefalsim, in Kfar Aza, at the Anzac Memorial near Be'eri, in Tel Gamma near Re'im, in Ein HaShlosha, in Nirim, on the roof of grain warehouses near Ein HaBesor, and by the Steel Division Memorial at the Hevel Shalom area in the southern Gaza Strip.
Preserve the idea
It appears and sounds delusional, but when talking to these two individuals, it's hard not to be impressed by how seriously they take this movement.
"In the coming (Knesset) winter session, we'll work to establish a political lobby," Odes says. "We'll of course approach MKs from the right, but we're planning on trying to recruit supporters from the center and the Zionist left as well. Meanwhile, we've already managed to raise, from private donors both in Israel and abroad, several hundreds of thousands of shekels that would be enough for a campaign on the streets, in the media, and on social media. Every few months we'll organized an event and preserve this idea over the long term, until it becomes a reality."
Until then, Inbar and Hadar are living their lives. Inbar says that when she lived in Elei Sinai, she was completely at ease—despite the mortar shells that landed inside the settlement.
"I had no fear because that was my home and home gives you a sense of security. Today I live in Ashkelon feeling a sort of anxiety. Since Operation Protective Edge, I've been living in the safe room with my husband and my son. And while my husband wants to go back to sleeping in our bedroom—I can't bring myself to.
"My father didn't want others to demolish the home he built, and he received a special permit immediately after the evacuation to go to Elei Sinai and burn down our house. After he burned it down, he came back and told us, his children, that he expects us to return to Elei Sinai, and if not us—then our children. And if not them—then the grandchildren. So the longing to return has been there since the day I left. Is it realistic? Kfar Etzion was evacuated and they returned, Kfar Darom was evacuated and they returned. It has happened before, there is no reason it won't happen again."
Gaza Disengagement
A year before the evacuation, the Southern Command warned of 'Hamastan in Gaza,' but Army Intelligence was quick to dismiss it, while the Shin Bet estimated Hamas was interested in calm; those who did try to alert of the dangers of leaving Gaza were pushed aside, while the rest toed the line.
Hadar says that before the evacuation, her mother asked the IDF for special permission to take with her the araucaria tree her late husband had planted in the house's back yard.
"In the end, there was no coordination between the different authorities on the ground and the bulldozers that demolished the house also uprooted the tree," she says. "To the very last minute I fought against the evacuation and believed that, in the moment of truth, the troops will refuse to follow orders. I watched the clashes over the evacuation of the settlement's synagogue from the ground, while a lot of young people barricaded themselves up on the roof. I encouraged them from below to hold on. We put our hopes on them and believed that up there, on the roof, the expulsion will be thwarted. When that failed, I fell apart. We were evacuated to a hotel in Be'er Sheva and I stayed in my room and cried in bed for days. I was really in mourning."
She has been living in Itamar with her husband and three children for eight years now. "When we chose to live there, I wasn't thinking about the location. I only remember asking before buying the house if the land it was built on was okay. (The real estate agent) smiled and said this was a typical question for those who were evacuated from Gush Katif. I know a lot of my friends chose not to live in Judea and Samaria, thinking 'We already suffered one blow, we don't want to suffer another.' But it doesn't bother me.
"I tell my children with longing about Kfar Darom, about the open spaces and the sea. And they're jealous of me for having had a sea nearby while growing up because to them, going to the beach is a special occasion. My eldest daughter is 7.5 and doesn't understand how soldiers could possibly be the ones who evacuated us from our home, and I tell her that she will understand it when she grows up. It was always clear to me that I would return there one day. My husband wasn't really convinced until he spent enough time with the idea and several months ago told me he was on this journey with me.
"I thought I was the only one with my longing and my desire (to return) until the movement was founded and I realized there are many others who are dreaming to go back there. We already number at 40 families from our settlement, and God willing more families will join us who weren't originally from Kfar Darom. We're taking our time, it's not like we're talking on the phone daily, but there are plans and we hold meetings and each has his or her role. Even if it takes time—and it will—I believe with every fiber of my being that we'll eventually return home."