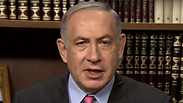 PM: 'I care more about Palestinians than their own leaders do'
Benjamin Netanyahu has released a new video in which he accuses Hamas of denying humanitarian aid to Palestinians, referring to the recent reports of humanitarian aid organizations diverting funds to Hamas, rather than providing actual humanitarian aid as Israel does; 'The Palestinian people deserve better.'
Prime Minister Benjamin Netanyahu posted a new video in English on Thursday evening to his official Facebook page in which he claims, "I, the Prime Minister of Israel, care more about Palestinians than their own leaders do."

The prime minister does qualify that statement by first stating that it was "something…that some of you will not believe." He addresses the recent revelations that humanitarian aid organization employees were transferring funds to Hamas, "the terrorist organization that rules Gaza."

Netanyahu's address (צילום: לע"מ)

He says, "A few days ago, the world learned that Hamas, the terrorist organization that rules Gaza, stole millions of dollars from humanitarian organizations like World Vision and the United Nations."

Netanyahu is referring to two separate, yet related affairs. The first was that the international Christian non-profit organization World Vision's Gaza Strip director, Mohammed el-Halabi, confessed to siphoning about $7.2 million a year in humanitarian funds to Hamas over five years. This was reported by the Shin Bet.

The second revelation concerned the construction of a marina built by Hamas's military wing in the northern Gaza Strip that was financed with funds siphoned from the United Nations Development Agency (UNDP). According to an indictment filed against 38-year-old engineer Waheed Borsh from Jabalia (north of Gaza City), the Gazan funneled aid money from UNDP to the construction of the marina, which Hamas naval commandos intended to use for future operations and training.

Speaking before book-filled shelves and flanked by an Israeli flag and a photograph of himself with his wife and two sons, the head of government compared the actions of Israel towards the Palestinians favorably against those of Hamas. He speaks, inter alia, of the Jewish State's facilitating the entry of aid into the Strip and the terrorist organization's seizing thereof and of Israeli hospitals treating wounded Gazans that Hamas would prevent from receiving help.

Netanyahu proposes, "Imagine, just imagine, where we might all be if Palestinian leaders cared as much about helping their own people as they did about hurting our people. The Palestinian people deserve better."

He concludes dramatically, "The cynicism and cruelty of Hamas is hurting all of us. It's hurting peace."

In a response sent to AFP and reported by the same, senior Palestinian official Saeb Erekat wrote, "The hatred that Mr. Netanyahu has for the Palestinian people causes him to invent a parallel history."