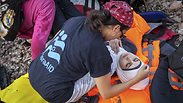 IsraAID receives Muhammad Ali award
Photo: IsraAID
IsraAID wins Mohammad Ali award of humanitarian aid work
The Muhammad Ali Center has decided to award IsraAID the Muhammad Ali Humanitarian Award for the work the Israeli aid organization has done all over the world; the Gala and awards ceremony will take place in Louisville, Kentucky on September 17th.
In recognition of IsraAID's contribution to humanitarian aid work around the world, Navonel Glick, the organization's chief operating officer, has been selected to receive the Muhammad Ali Humanitarian Award at the Ali Center's annual gala dinner in September.

IsraAID is Israel's leading humanitarian non-governmental organization and is committed to providing life-saving emergency relief and durable solutions for populations affected by natural disasters, epidemics and post-conflict situations.

Voni is one of six leaders under 30 to receive the Core Principle Award from the Center. The award was named after Ali's six core principles: confidence, conviction, dedication, giving, respect, and spirituality.

A Canadian-Israeli citizen, Glick joined IsraAID in 2011 after several years of social action in Nepal. He has led missions to disaster zones around the world, including the Philippines, Kenya, Sierra Leone, Haiti, and Iraq. Based at IsraAID's headquarters in Tel Aviv, Glick is responsible for all the day-to-day leadership and general management of the organization.

Upon receiving the award, Voni stated that it was "an incredible honor to be named among such a prestigious group of inspiring individuals who have accomplished so much good in the world.




He added that it was "a dream come true to be in any way associated with the incredible Muhammad Ali, who accomplished so much and literally shook the world with the sheer force of his commitment and values". He went on to say, "this award will hopefully continue to bring more attention to some of the many humanitarian crises going on around the world and galvanize people to help".

The annual awards ceremony—hosted in Ali's hometown of Louisville, Kentucky—was launched in 2013 to recognize and celebrate the social contributions of people from around the world, as well as pay tribute to Ali's humanitarian values and action.

Glick will travel to Louisville to attend the Gala dinner and award ceremony on September 17.

IsraAID has become synonymous with a rapid response to humanitarian crises since its inception in 2001. Its medical teams, search and rescue units, post trauma experts, community specialists and other professionals have led international responses in natural disasters and civil strife around the world.

After the initial emergency period, IsraAID shifts to long-term programs to accompany communities and governments as they strive to build a better future. As of 2015, IsraAID has responded to crises in 38 countries, and has on-going programs in 20 countries.