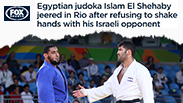 International press covers incident
Photo: Oren Aharoni
Unsportsmanlike behavior: Criticism, boos for Egyptian Olympiad who refuses Israeli handshake
Israeli Ori Sasson bested Egyptian Islam El Shehaby on the Judo mat in Rio on Friday, and, as is customary, he extended his hand to his opponent after winning Israel's second bronze medal; when the Egyptian refused, the crowd booed, and many have condemned his refusal.
The refusal of Islam El Shehaby, a 34-year-old Egyptian judoka, to shake the hand of 25-year-old Israel Ori Sasson after being bested on the judo mat has provoked international criticism. The two sparred on Friday, when Sasson won Israel's second bronze medal at the 2016 Olympic Games in Rio de Janeiro.

Islam El Shehaby, an ultraconservative Salafi Muslim, had come under pressure before the games from Islamist-leaning and nationalist voices in Egypt to withdraw from the first-round heavyweight bout against Or Sasson.

With about a minute and a half left in the bout, Sasson earned an automatic victory with two throws of El Shehaby.

The Egyptian lay flat on his back for a moment before rising and standing opposite Sasson in front of the referee. When Sasson extended his hand, El Shehaby backed away, shaking his head.

The referee called the 34-year-old El Shehaby back to the mat and obliged to him to bow; he gave a quick nod and was loudly booed as he exited.

Later, Sasson said his coaches had warned him that El Shehaby might refuse to shake his hand even though the two have never fought before.

"I knew he would do it, so it wasn't a surprise for me," he said. "But I cannot say anything. This was his decision."

Having been taught that one of the first principles of judo was to respect one's opponent, Sasson said it was "a little bit weird" that El Shehaby declined to shake his hand, although the gesture didn't affect him.

"For me, it doesn't matter because I'm a professional fighter," he said.

"Sport doesn't always unite," wrote Italian newspaper Corriere della Sera on the affair. "Though at the Olymic Games in Rio we've already seen historic selfies of North Korean athletes with South Korean athletes, there were no smiles and no expressions of peace between…El Shehaby and his Israeli opponent.




The International Olympic Committee set up a disciplinary commission to look into the incident.

"Things happen in the heat of the moment that are not acceptable," IOC spokesman Mark Adams said. "We believe the Olympic movement should be about building bridges, not erecting walls. There's absolutely no excuse for it."

He acknowledged that sometimes athletes can't bring themselves to shake hands with their competitors.

"It's a shame if that happens," Adams said.

The International Judo Federation called it a sign a progress that the bout even took place between the two athletes.

"This is already a big improvement that Arabic countries accept to (fight) Israel," spokesman Nicolas Messner said in an email. The competitors were under no obligation to shake hands, but a bow is mandatory, he added.

Even though El Shehaby ultimately bowed, "his attitude will be reviewed after the games to see if any further action should be taken," Messner said, adding that the ethics commission of judo's governing body would review the incident after the Olympics.

Ofir Gendelman, Arabic language spokesman for the Israeli Prime Minister Benjamin Netanyahu, called the incident "shocking." In a Twitter post, he said it "goes against the spirit of Rio 2016," writing in Arabic said that "sports are not the field for politics and extremism."




Egypt's Olympic Committee distanced itself from what El Shehaby did, saying he was "alerted before the match to abide by all the rules and to have sporting spirit during his match with the Israeli player."

"What the player did after the match, and not shaking hands with his rival, is a personal action," the committee said in a statement.

Sasson described Friday as "a difficult day" after four years of preparation but that he was satisfied with the outcome.

"Now I'm thinking only about my medal," he added.