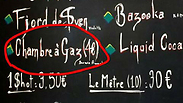 Drink offenses: Parisian bar serves cocktail called 'Gas Chamber'
A bar in Paris leaves bad taste with 'Gas Chamber' cocktail; Jewish website in French capital has called on its users to contact the 'Sunset Boulevard' bar and demand that the offensive drink, which sells for four euros, be removed from its menu.
A bar in Paris has struck a sensitive chord among many Jewish people for serving a cocktail drink which stands out on the menu for its provocative name - 'Gas Chamber.'

The bar, 'Sunset Boulevard,' sells the cocktail for four euros and has caused controversy which has led to a Jewish Paris-based website to exert pressure on the bar's owner.

The website, 'Europe-Israel,' published a picture of the 'Gas Chamber' option which appears on the bar's selection board, and called on its owners to remove the drink from its menu.

The cocktail bar is located in the ninth arrondissement of Paris and is decorated with innocuous posters and pictures of Hollywood. It is unclear what motivated the bar owner, Paul Hyber, to give one of his drinks such an insensitive name but the aforementioned website has called on its users to contact the bar and to demand that the drink, which offends many Jews and Holocaust survivors, be removed.

During the last year a significant decline in the number of nationally-motivated attacks was recorded against Jews across the world. However, a marked increase was also recorded in the form of 'institutionalized anti-Semitism' such as boycotts and increased activities of the BDS movement, according to a report on anti-Semitism in the world for 2015, which was presented during a press conference in Tel Aviv University.

Overall, 2015 saw the lowest number of anti-Semitic incidents in the last decade. According to the report, during 2015, 410 violent anti-Semitic incidents were recorded, compared with 766 in 2014, constituting a decline of 46%.

The country in which the highest number of anti-Semitically-motivated attacks took place was the US with 88 incidents. However, France followed closely behind with a proportionately larger number of attacks when considering the population-to-incident ratio with 73 attacks. Britain came third with the number of anti-Semitic attacks standing at 62.