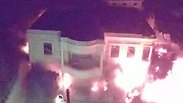 הריסת בית ה מחבל ש רצח ב פיגוע דקירה את הילדה הלל יפה אריאל קרית ארבע כפר בני נעים
Photo: IDF Spokesperson
Israeli security forces demolished the home of Mohammed Taraireh, the terrorist who murdered 13 year-old Hallel Yaffa Ariel in a stabbing attack in June, in Bani Na'im overnight Sunday.
The terrorist's home was demolished in accordance with government policy, by way of an accurate, controlled explosion of the floor in the building where the terrorist lived.
Since the beginning of the recent wave of terror attacks, the IDF, in cooperation with the Border Police and the Israel Civil Administration, have demolished 25 homes belonging to the terrorists who perpetrated the attacks.
Terrorist's home demolished by security forces (Video: IDF Spokesperson) (צילום:דו"צ)
The overnight demolition was the fastest to be approved—from the moment of the attack until it was carried out.
Dozens of Palestinians tried to disrupt the demolition work by throwing stones and Molotov cocktails at soldiers from the Nahal's 50th Battalion and from the engineering Yahalom unit, who were carrying out the demolition. None of the soldiers was hurt. The troops responded to the onslaught with stun and gas grenades.
Last week, Israel released Lara Taraireh, the terrorist's sister, who on the day of the attack was documented praising her brother's actions and was subsequently arrested over suspicions of incitement.
Hallel Yaffa Ariel, 13 years old from Kiryat Arba, was stabbed to death in her bed by terrorist Mohammed Taraireh, who crossed the settlement's security fence and broke into her home in the Harsanina neighborhood. Members of the settlement's civil security squad shot the terrorist dead, while one of them, a 31-year-old man, was moderately-to-seriously injured from the gunfire.
Hallel's mother Rina Ariel said on Monday morning, "So long as the entire house is not demolished and the family expelled, there isn't enough real deterrence and there is nothing to prevent the next terror attack. It's very easy to rebuild a floor of the house. The real answer would be expelling the family and settling the house with Jews. If the hostile population knew every house of a terrorist will be given to Jews, it would cause great deterrence."