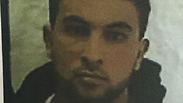 Mohammed Younis Ali Abu-Hanak
In a joint operation with the Shin Bet, the IDF and the Judea and Samaria District Police recently arrested the terrorist responsible for the stabbing attack of December 23, 2013, in Adam Square that moderately wounded a policeman.

The attacker was 21-year-old Mohammed Younis Ali Abu-Hanak from Al-Abidiya near Bethlehem.

The Shin Bet investigation revealed that on the day of the attack, Abu-Hanak's motive for was to put an end to his difficult life.

The investigation also revealed that Abu-Hanak purchased a kitchen knife on the morning of the attack and hid it inside his jacket. He boarded a taxi from Ramallah to Bethlehem to select a random target for his attack. He decided on a policeman who was standing at a traffic circle near the Jewish community of Geva Binyamin and the Palestinian village of Jaba.

Abu-Hanak exited the taxi, approached the policeman, and stabbed him once in the back, wounding him moderately. He then fled the scene and managed to evade the authorities for two and a half years before finally being apprehended.

The Shin Bet said in a statement that it will "continue to operate with all its available resources to prevent terror attacks and to bring the perpetrators to justice, even when a long time has gone by since the attack was committed."

TPS contributed to this report.