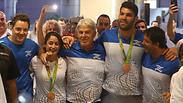 Gerbi, Sasson, and theri coaches.
Photo: Motti Kimchi
"I didn't expect this kind of madness," said Olympic athlete Yarden Gerbi as she returned to Israel, after having won the bronze medal in judo at the Rio 2016 Summer Games. Gerbi and fellow judoka Ori Sasson – who also won bronze in the Games – were met by a crowd of 1,000 cheering fans at Ben Gurion International Airport.

The two were mobbed by fans asking for selfies. Even people who were in the arrivals hall for other reasons soon joined in on the celebration of the two excelling athletes.




"Thank you all. I've had a few days of quiet in Rio and I've processed the achievement. (My) next dream is a vacation," Gerbi said.

"When I won the world championships I received three marriage proposals, this time I only got one, so I'm a little disappointed," she joked, "Just kidding… the responses have been amazing, everyone (emotionally touched me) and gave their support."




Gerbi is the second woman to win an Olympic medal for Israel, the other being Israel's first ever medalist – judoka Yaed Arad, who won silver at the 1992 Barcelona Olympics. Sasson also has his own connection to the 1992 Games, as his coach Oren Smadga was quick on Arad's heels in 1992, winning bronze in the very same Olympics. Israel's Olympic medal tally now stands at nine – seven bronze, one silver, and one gold.