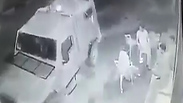 A video which appears to show IDF soldiers throwing a stun grenade at a group of Palestinians sitting outside a home in the West Bank went viral on Palestinian social media on Tuesday.

It is unclear where and when the footage was recorded but the IDF has said that it is looking into the matter.

Video shows soldiers throwing stun grenade at group of Palestinians

The video was taken from a security camera at the scene and shows a small group of Palestinians sitting at the entrance of a home on the roadside. An IDF jeep is suddenly seen approaching the group and stopping a for few seconds. While nobody exits the vehicle, someone sitting at the front of the vehicle speaks to group.

Just after the jeep resumes its journey, one of its occupants throws what seems to be a stun grenade at the group. The footage does not show any of the individuals in the group posing a threat. Nor does it appear that any disturbance of any kind broke out.

The video was published just two weeks after another video showed border policemen confiscating a young Palestinian girl's bike and throwing it into the bushes. The soldiers' defense attorney argued that they were doing it to protect her.