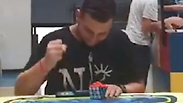 Eyal Alfassi at the Rubik's cube championship
The Israeli Rubik's cube championships opened in Raanana, with a new Israeli record being set by Eyal Alfassi, 18, of Modiin. Alfassi solved the cube in 16.985 seconds with one hand.

Despite a world record of 6.88 seconds, set by Feliks Zemdegs of Australia, hundreds of participants showed up in an attempt to break the record. This year also saw a considerable rise in the number of Haredi participants, following a religious edict permitting dice games on Shabbat, said event planner Lilah Friedman.

Israel Rubik's cube national championships (צילום: ניצן דרור ומארגני התחרות)

Alfassi came with the goal of defending his national championship title, which he has won the past two years. "When I was in seventh grade, I was exposed to the cube for the first time," said Alfassi.

"I have since learned methods from the internet on how to arrange the cubes. You have to remember algorithms and have nimble hands. From there, anything is possible. I can see the level of these kids in the competition, and I can say that I am concerned that one of them is going to take the title from me."

In a tense moment, ten year-old Adam Sagy, who competed in the pyramid cube competition, managed to break the old Israeli record of 4.3 seconds, stopping the clock after 3.6 seconds. However, at the end it turned out Sagy didn't rest his hand on the clock in the manner required, and his record was thus disqualified. Upon discovering his mistake, the disappointed Sagy burst into tears and was consoled by his parents who rushed to encourage him.

Yoav Patal, a 13 year-old from Raanana, competed for the first time at the Israeli national championships in the 4x4 cube competition, with his eyes closed. "People think you need a lot of sense, but you just have to learn the method. Before I cover my eyes, I simply look carefully where I need to move the cube, and then hope to not become confused during the competition."

Patal also won the 3x3 competition with his eyes closed.

Hagai Shafir, CEO of the company Synapse, which organizes the competition in coordination with the World Cube Organization, said all the participants arrive at the competition hoping to break the world record for solving the puzzle with both hands, which currently stands at 4.9 seconds. "We manage to break Israeli records at every competition, so maybe we'll break the world record," said Shafir.