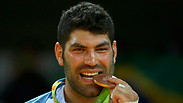 Ori Sasson win his bronze medal
Photo: Reuters
Upon his return home, Israeli judoka Ori Sasson, who won a bronze medal at the Rio 2016 Olympics, recounted on Tuesday his fight with the Egyptian opponent who wouldn't shake his hand, saying Islam El Shehaby and his coach "said 'Allahu Akbar' to each other" before the fight.

"This shouting reminded me of what's going on in Israel, before a terror attack," he said.

In an interview with Ynet's sister publication Yedioth Ahronoth, to be published in full on Friday, Sasson says that when his name came up in the draw to fight against El Shehaby, he received a lot of messages on social media from people telling him to "beat the hell out of the Muslim."




"But I realized I was going to fight against an athlete, and it didn't matter to me if he were Egyptian," Sasson said.

"He never spoke to me. He always had a hostile expression. He would always look like he wanted to murder us," Sasson added, noting that the Egyptian delegation members also refused to ride the elevator with the Israeli athletes.

Despite the hostile attitude, Sasson stressed he "never developed hatred towards him (El Shehaby)."

"After the fight, I sought out his hand (to shake). My coach Oren Smadja asked me to do so," the judoka added.

Sasson also spoke about his newfound fame, saying "I've heard talk that I've become a sex symbol. I'm flattered, but I'd rather be a national symbol."

After being welcomed by hundreds of people at Ben-Gurion Airport upon his landing in Israel, the Olympic medalist had a long day, spending most of it talking to the media. Despite that, he made time to come to the community center where his brother teaches judo to children.

Telem Yahav contributed to this story.